February 7, 2020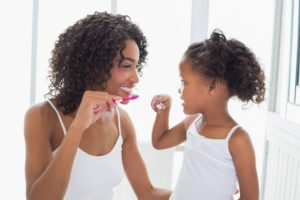 February is about more than flowers and chocolates—it's also National Children's Dental Health Month! It's the perfect time to take a moment to appreciate your little one's smile and teach them how to take care of it. Establishing great dental habits early in your child's life will help to keep their smiles happy and healthy for years to come. Here are some tips from your children's dentist in McKinney to get your son or daughter excited about taking care of their oral health!
Make Toothbrushing a Fun Activity, Not a Chore
One of the most influential habits you can teach your child early in life is to regularly and correctly brush their teeth. However, getting them to practice a regular dental care routine may feel more like pulling teeth if they see toothbrushing as a chore. Try making it a fun activity by:
Letting them pick out their own toothbrush with their favorite cartoon character on it.
Trying fun-flavored toothpastes and mouthwashes that have the American Dental Association's Seal of Approval.
Being a great role model and setting a good example by brushing your teeth with them!
Turn Dental Anxiety into Good Memories
If you wait to take your child in for their first dental appointment until they have a toothache or cavity, they're not likely to form a good first impression of oral healthcare. Instead, let them experience all of the new sights, sounds, and friendly faces of their McKinney dentist's office with a simple routine checkup. Their McKinney dentist can take the necessary time and specialized care to help your child feel safe and comfortable in the examination chair. These good memories can help prevent dental anxiety and encourage them to continue visiting their dentist regularly as they grow.
Keep Cavities Away with Smile-Friendly Snacks
Tooth decay is the single most common chronic childhood illness. Unfortunately, that's largely due to the fact that most snacks marketed for children are full of sugar. Chips, cookies, sodas, and even fruit juice and snacks are brimming with sugar that easily burns through the enamel of baby teeth. Try swapping out those sugary snacks with smile-friendly ones that can boost your little one's oral health, like:
Cheese, yogurt, salmon, and other calcium-rich foods, which strengthen teeth.
Broccoli, oranges, bell peppers, and other foods with vitamin C to keep their gums healthy.
Raw carrots, celery, and other high-fiber vegetables that can help prevent cavities.
Tap water, which will wash away any lingering sugars and is often fortified with fluoride.
So this National Children's Dental Health Month, take some time to teach your little one about their oral health. The healthy habits you instill in them now will help to set them up for years of happy, healthy smiles.
About the Author
If you're in search of a great dentist for kids in McKinney, you've found him! Dr. Zach Hegazin of Marble Dental Care in McKinney, TX is dedicated to making every dental appointment as comfortable and relaxing for both you and your child as possible. From cleanings, sealants, fluoride treatments, and more, he offers a range of specialized services for his younger patients. For more dental healthcare tips for children, feel free to contact him at his website or (214) 592-0441.
Comments Off

on February is National Children's Dental Health Month
No Comments
No comments yet.
RSS feed for comments on this post.
Sorry, the comment form is closed at this time.