TMJ Treatment - McKinney, TX
Relieve Chronic Jaw Pain & Headaches
The temporomandibular joints (also known as the TMJ) are a crucial part of your oral health and quality of life – you couldn't eat or speak without them! Unfortunately, this part of the body (like the rest) can fall victim to strain or dysfunction over time, leading to chronic jaw pain and other unpleasant, long-term symptoms. At Marble Dental McKinney, Dr. Hegazin can assist patients with TMJ disorder, helping them reclaim a harmonious smile through effective therapy. Please don't hesitate to contact us for an appointment and in-depth consultation about TMJ treatment in McKinney.
Do I Have TMJ Disorder?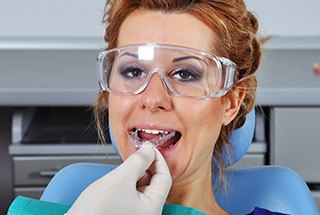 TMJ disorder (sometimes referred to as TMD) is a complex condition that manifests differently from person to person. There are also several potential causes, such as the presence of bruxism (teeth grinding), a misaligned bite, a severe jaw injury, or even the onset of arthritis. Dr. Hegazin will review the joints, the jaw, and your overall oral health carefully in order to provide a thorough diagnosis.
If you experience any of the following symptoms on a regular basis, please contact our dental office.
Constant pain in the jaw, mouth, head, neck, face, and/or shoulders
The jaw joints regularly clicking, popping, or even locking completely
Struggling to open and close the mouth properly or chew food without discomfort
Pain that feels very similar to an earache
Equilibration / Occlusal Adjustments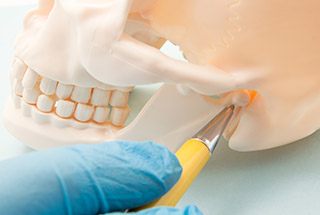 When the teeth don't come together properly, this can cause excessive strain in specific areas of the mouth and subject the TMJ to real, lasting harm as well. Equilibration (also referred to as an occlusal adjustment) can correct this issue here in McKinney. The process is simple – Dr. Hegazin will carefully and conservatively reshape the surfaces of certain teeth, using restorative solutions like direct bonding when needed to create the ideal balance. By ensuring that the biting pressure is spread evenly throughout the mouth, TMJ-related pain can be left in the past.
Occlusal Splints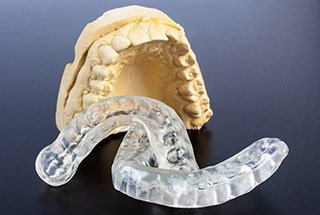 Occlusal splints are custom-made appliances that are designed to alter the jaw's default position when worn. The diligent use of this device can alleviate chronic strain and help reset the jaw's ill-fitted "programming," improving TMJ health in the long-term. In fact, many patients achieve permanent success and can stop wearing their occlusal splint after some time has passed. Alternatively, Dr. Hegazin may recommend an oral appliance for patients with chronic bruxism, which can prevent harmful contact between the rows of teeth that can contribute to TMJ disorder.
TMJ FAQs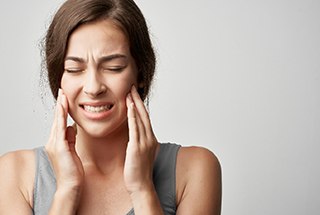 Are you ready to relieve chronic jaw pain and headaches? Our team at Marble Dental McKinney would love to help! If you have specific questions you would like answered before moving forward with TMJ treatment, don't hesitate to contact our office to schedule a one-on-one appointment with Dr. Hegazin. However, if you would simply like a bit more information before giving us a call, keep reading for the answers to the most frequently asked questions.