Emergency Dentist – McKinney, TX
Urgent Dental Care Right When You Need It
By nature, dental emergencies tend to happen suddenly and unexpectedly – and often at the most inconvenient times as well. If you or your loved one is experiencing a serious oral injury and/or dental pain, you need a trusted practice who will make your family a priority now, not in a few days or weeks.
At Marble Dental McKinney, Dr. Hegazin is a dedicated emergency dentist in McKinney who offers care for both new and current patients. Whenever our team receives your call, we will find time in our schedule to accommodate your needs as soon as we possibly can. Extended hours are also available on certain weekdays and even some Saturdays!
Why Choose Marble Dental McKinney for Emergency Dental Care?
Evening & Saturday Hours for Fast, Convenient Care
Special Offer: $49 Emergency Exam with X-Rays
Highly Trained Dentist With Over a Decade of Experience
How We Treat Dental Emergencies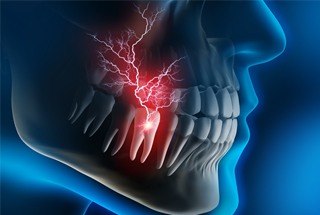 At Marble Dental McKinney, you can count on us for urgent dental care right when you need it. Here's what you can typically expect when it comes to how we'll treat your dental emergency:
Schedule your same-day appointment: After we quickly assess your situation over the phone, we'll schedule your same-day emergency appointment and give you first-aid instructions to use until you can reach our office.
Your emergency evaluation with Dr. Hegazin: As soon as you reach us, Dr. Hegazin will examine your teeth and take any necessary X-rays to learn more about the cause or extent of your emergency.
Reviewing the findings & your options: Then, Dr. Hegazin will go over his findings with you and fully explain which steps and treatments he recommends to take next. At this time, we can also go over an estimate of costs, payment options, and more.
Get the care you need, fast: Once you and Dr. Hegazin have agreed on a treatment plan, you'll get the care you need right away so you can get back to enjoying your happy, healthy smile!
The Most Common Dental Emergencies
Obviously a damaged or lost tooth needs to be treated right away, but beyond that, it can sometimes be hard to tell what's considered a true dental emergency. In general, if there's an intense pain in your tooth and gums that won't go away, or if there's a sudden swelling in your mouth, you should call our practice right away. Lost fillings, crowns or other restorations are also considered emergencies since they can leave the tooth vulnerable to further damage or infection. If you find yourself with any of the following problems or issues, don't hesitate to give us a call right away for the care you need!
Understanding the Cost of Emergency Dentistry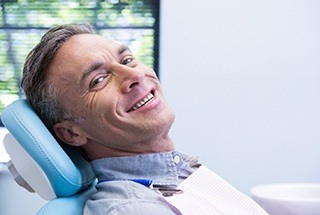 After we've had a chance to look at your mouth and figured out the root cause of your dental emergency, we can give you an estimate of how much it will cost to treat the problem. The exact price will differ since not every dental emergency is the same and some will require more complex treatments than others. However, we are happy to offer a flat fee of $49 for a basic emergency exam with X-rays. Additionally, your dental insurance is likely to pay for a certain percentage of the cost depending on the treatment you need. Read on as we break down everything you need to know about the cost of dental emergencies in McKinney.
Every Dental Emergency is Different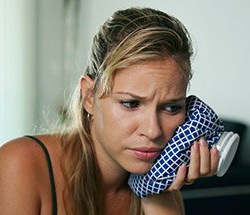 The circumstances of a dental emergency can vary greatly from one patient to another, and each patient needs unique treatment to address the problem. As a result, the cost will also differ. Factors to consider include:
Location: If the office is located in a place where the cost of living is high, treatment will generally be more expensive as a result.
Insurance: A good dental insurance plan will minimize your out-of-pocket costs.
Type of Treatment: Dental crowns do not cost the same as multiple dental implants, and a tooth extraction will have a very different price point than a simpler procedure. Not only do each of these treatments have their own costs, but they receive differing levels of coverage from dental insurance companies.
Taking Care of Your Smile Can Save You Money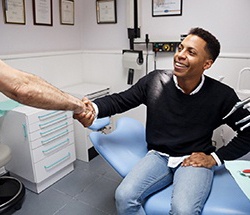 Some dental emergencies are unavoidable, however many urgent situations occur due to unchecked infection or damage. By committing to regular dental appointments and a good at-home oral healthcare routine, you can minimize your risk of emergencies while potentially saving yourself big bucks. As soon as you notice an issue, contact our emergency dentist in McKinney. The longer you wait to get treatment, the more severe your issue will become. For instance, a simple cavity that requires a filling can turn into a necessary root canal, which may result in the need for a dental crown without treatment.
Does Dental Insurance Cover Dental Emergencies?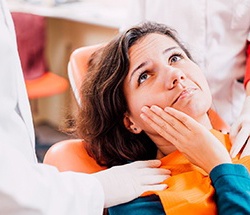 Yes! Most insurance plans offer some form of coverage for dental emergencies. Usually, your provider will cover one emergency exam per year with 50% to 80% coverage for dental services associated with urgent problems. However, every plan is different, which is why it's important to check with your provider first. We are more than happy to communicate directly with your insurance to help you utilize your benefits and save money.
Other Options for Making Dental Emergencies Affordable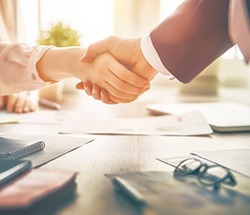 Although we know cost may be a concern for you, if you're experiencing a dental emergency, you should not postpone getting treatment. Doing so will only allow the problem to worsen and cause more damage or pain. At Marble Dental McKinney, we have several options to help you save money. In addition to accepting dental insurance, we can help you apply for financing to divide the cost into easy monthly payments. The best part is that this payment option comes with low to no interest. Plus, we offer our own in-house savings plan to make it easy to enjoy quality, cost-effective emergency dental care.
How to Prevent Dental Emergencies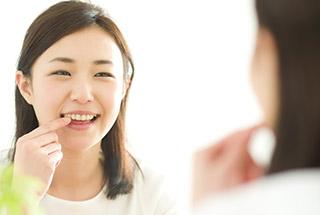 Try as we might, not every painful, broken, and knocked-out tooth can be avoided. However, there are plenty of ways you can reduce your risk of encountering a dental emergency! At Marble Dental McKinney, we aim to help keep your teeth happy, healthy, and intact for a lifetime. That's why we encourage everyone to keep the following tips in mind to prevent dental emergencies in McKinney. Of course, if you do find yourself in need of urgent dental care, don't hesitate to give us a call right away and our talented dental team will help you as soon as possible.
Maintain Good Oral Hygiene Habits at Home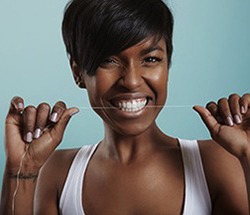 When it comes to protecting your smile and preventing dental emergencies, one of the easiest things you can do is practice great dental hygiene habits at home. Cleaning away bacteria in your mouth with fluoridated dental products frequently is essential for preventing dental emergencies. Simply brushing your teeth for two minutes every day, flossing between all your teeth daily, and rinsing with mouthwash regularly can go a long way in keeping your smile sparkling and strong!
Be Careful With Your Diet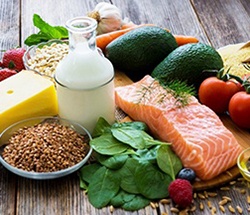 You probably already know that consuming too much sugar can lead to a mouth full of cavities. However, that's not the only way your teeth are influenced by what you eat! Hard, sticky, and acidic foods and drinks are notorious for weakening enamel and causing chipped, sensitive, and decayed teeth. Instead, eat plenty of low-fat dairy products, lean proteins, and fruits and vegetables with vitamin C for a natural and delicious way to keep your smile healthy.
Wear a Mouthguard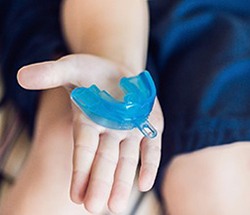 Do you play sports? Do you grind your teeth at night? If so, it's time to talk to us about getting a mouthguard or nightguard. These high-quality, custom-made dental appliances will protect your teeth from impact, pressure, and force. Mouthguards and nightguards can dramatically lower your risk of sensitive, weakened, and knocked-out teeth.
Use Tools, Not Teeth to Open Packaging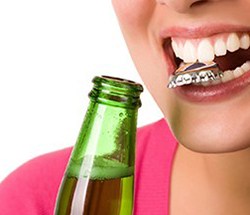 If you're in a hurry, very excited, or feeling a little lazy, it may seem very convenient to use your teeth as a tool. While opening bottles, packages, and containers with your pearly whites may seem convenient at the time, it could cost you a sudden trip to our McKinney emergency dental office. Your teeth are very strong, but using them on non-food items can wear away their enamel and seriously damage them.
Dental Emergency FAQ's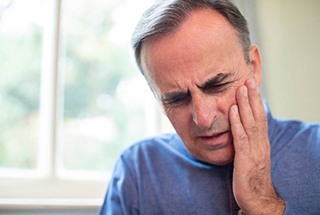 When you're facing a dental emergency, many questions can rush into your mind all at once. What should you do? Who can get your smile back to full health? Can the tooth be saved? Although we can't answer all your questions here, we can provide some helpful information so that you don't have to second guess yourself later on when it matters most.
When Is Going to the ER for a Dental Emergency the Right Choice?
In the vast majority of cases, calling and going to Marble Dental McKinney for treating a dental emergency is the way to go. After all, Dr. Hegazin is an expert in handling oral problems. However, if the situation involves any of the following, your first visit should be to the emergency room:
Oral bleeding that lasts longer than 10 minutes.
Broken or dislocated jawbone.
Severe facial trauma.
Once these problems are resolved, then our practice can address your dental emergency. If you're not sure where to turn for help, give our office a call! We can give you specific guidance for the best possible outcome.
What Should I Do If I'm Scared of the Dentist and Need Emergency Care?
Dental emergencies can be stressful and nerve-wracking for everyone involved. We can help you or your loved one feel comfortable throughout the entire process through sedation methods. At Marble Dental McKinney, we use nitrous oxide and oral conscious sedation to ease our patients' fears. These safe techniques can help you relax and focus on recovering from your dental emergency while we take care of the rest.
What Should Be in a Dental Emergency Kit?
You should keep our office's contact information handy at all times, but in the meantime, you should make sure that you have the right tools on hand in case you need to perform first aid. An emergency kit should include:
A small container with a lid (for holding loose teeth or lost crowns)
Over-the-counter painkillers such as acetaminophen (but not aspirin or ibuprofen since they could thin the blood and can cause excessive bleeding)
Disposable gloves (for safety and hygiene)
Medical gauze (to control any bleeding)
Floss (for toothaches caused by something caught between the teeth)
Feel free to ask for more ideas of what to include in your own kit!