Porcelain Veneers – McKinney, TX
Realize Your True Smile with Porcelain Veneers!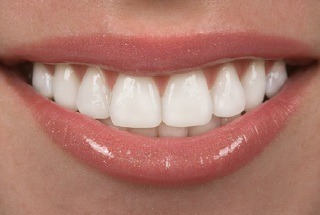 All too often, healthy smiles become plagued with unfortunate cosmetic imperfections, whether it be from external elements or events that occurred at a young age. Despite your best efforts, your tooth stains never seem to improve. Your chipped teeth are simply impossible to hide. Whatever your issue is, you can rest knowing that porcelain veneers are more than capable of hiding them and transforming your smile.
If you're ready to learn what potential your smile has, then it's time you paid a visit to Marble Dental Care. Dr. Hegazin will work with you to make your smile dreams a reality with the help of high-quality veneers. Contact his office today!
What are Porcelain Veneers?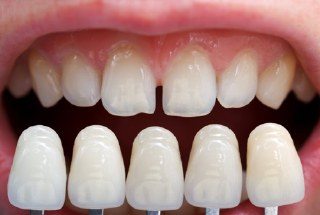 Porcelain veneers are super-thin sheaths of dental ceramic that rest on top of existing teeth. Porcelain is ideal not just for covering up multiple imperfections in teeth, but maintaining durability for many years to come. Each veneer is custom-made to precisely fit over existing teeth, allowing for the most natural appearance possible. If you're looking for a truly comprehensive approach for cosmetic improvements to your smile, there are few treatments as effective as porcelain veneers.
What is the Treatment Process?
The first step of treatment is scheduling a cosmetic consultation with Dr. Hegazin. He'll examine your teeth and make sure you have proper oral health before going through with treatment. He'll also listen to your smile goals to ensure he gives you exactly what you're looking for in your smile.
After confirming your eligibility for veneers, he'll begin the process of buffing down your enamel so that the veneers have room to sit flush. Then, they'll take an impression of your teeth and use that model to fabricate your permanent veneers. During this time, you'll wear a set of temporary veneers to help you get used to your new smile.
Once the veneers are created (after about two weeks), you'll come back to have your permanent veneers fitted. During the fitting, Dr. Hegazin will make sure that you're happy with your new smile and perform any necessary adjustments.
What Benefits Can I Expect?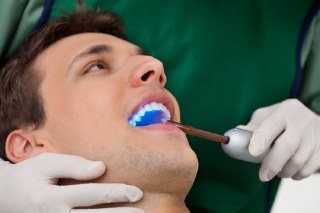 Porcelain veneers are the on the cutting edge when it comes to making your smile look flawless. If you were considering other cosmetic treatments, such as teeth whitening, direct bonding or crown lengthening, you likely won't need to pursue any of them if you're already set on pursuing veneers.
Furthermore, porcelain is a naturally stain-resistant material that is more effective at withstanding richly pigmentated foods when compared to natural tooth enamel. Natural enamel contains many cracks and crevices for stains to seep into, while porcelain is very smooth and contains no cracks. Just make sure to practice regular at-home care and never use your teeth as a tool to avoid damaging them.
With porcelain veneers, you can say goodbye to:
Permanent discoloration
Cracks and chips
Small gaps
Gummy smiles
Malformed or misshapen teeth