Porcelain Veneers – McKinney, TX
Realize Your True Smile with Porcelain Veneers!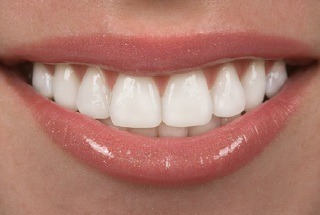 All too often, healthy smiles become plagued with unfortunate cosmetic imperfections, whether it be from external elements or events that occurred at a young age. Despite your best efforts, your tooth stains never seem to improve. Your chipped teeth are simply impossible to hide. Whatever your issue is, you can rest knowing that porcelain veneers are more than capable of hiding them and transforming your smile.
If you're ready to learn what potential your smile has, then it's time you paid a visit to Marble Dental Care. Dr. Hegazin will work with you to make your smile dreams a reality with the help of high-quality veneers. Contact his office today!
What are Porcelain Veneers?
Porcelain veneers are super-thin sheaths of dental ceramic that rest on top of existing teeth. Porcelain is ideal not just for covering up multiple imperfections in teeth, but maintaining durability for many years to come. Each veneer is custom-made to precisely fit over existing teeth, allowing for the most natural appearance possible. If you're looking for a truly comprehensive approach for cosmetic improvements to your smile, there are few treatments as effective as porcelain veneers.
What is the Treatment Process?
The first step of treatment is scheduling a cosmetic consultation with Dr. Hegazin. He'll examine your teeth and make sure you have proper oral health before going through with treatment. He'll also listen to your smile goals to ensure he gives you exactly what you're looking for in your smile.
After confirming your eligibility for veneers, he'll begin the process of buffing down your enamel so that the veneers have room to sit flush. Then, they'll take an impression of your teeth and use that model to fabricate your permanent veneers. During this time, you'll wear a set of temporary veneers to help you get used to your new smile.
Once the veneers are created (after about two weeks), you'll come back to have your permanent veneers fitted. During the fitting, Dr. Hegazin will make sure that you're happy with your new smile and perform any necessary adjustments.
What Benefits Can I Expect?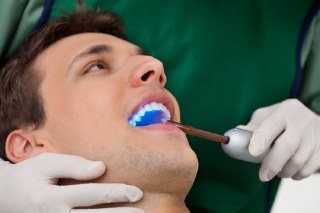 Porcelain veneers are the on the cutting edge when it comes to making your smile look flawless. If you were considering other cosmetic treatments, such as teeth whitening, direct bonding or crown lengthening, you likely won't need to pursue any of them if you're already set on pursuing veneers.
Furthermore, porcelain is a naturally stain-resistant material that is more effective at withstanding richly pigmentated foods when compared to natural tooth enamel. Natural enamel contains many cracks and crevices for stains to seep into, while porcelain is very smooth and contains no cracks. Just make sure to practice regular at-home care and never use your teeth as a tool to avoid damaging them.
With porcelain veneers, you can say goodbye to:
Permanent discoloration
Cracks and chips
Small gaps
Gummy smiles
Malformed or misshapen teeth
Understanding the Cost of Veneers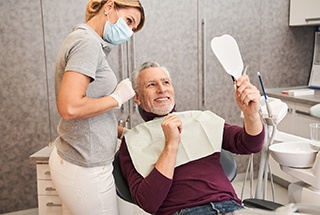 If you're interested in upgrading your smile with veneers in McKinney, you may be wondering how much they cost. While there is no one-size-fits-all answer, there are certainly a few things to consider as a prospective patient. Read on to learn all about the price of veneers, how they stack up to other smile-enhancing treatments, and ways to make the cost more affordable!
The Cost of Veneers Compared to Other Cosmetic Treatments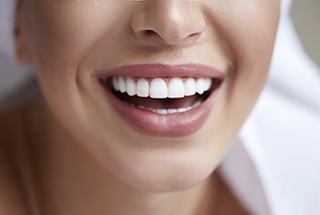 Veneers are a sought-after cosmetic dental treatment, but there are other options. Here's how the cost of veneers in McKinney compares to other popular smile-enhancing services:
Braces – This tried-and-true teeth-straightening treatment can address everything from minor crowding to severely gapped teeth. Typically, the price tag is $3,000-8,000 which depends entirely on your dental needs. Unfortunately, this only addresses the position of your teeth, not the shade and shape.
Teeth Whitening – Professional teeth whitening treatments are safe, customized, and effective. On average, in-office treatments cost $500-700 and at-home kits generally run $300-400. While both in-office and take-home options can blast away stubborn stains, the position and shape of your teeth will remain the same. As a result, you will need to factor in the cost of additional cosmetic dental services if you have misaligned, chipped, or otherwise flawed teeth.
Dental Bonding – Dental bonding has a lower upfront cost ($300-600 per tooth) and can correct minor gaps between teeth, unsightly chips, pigmented discoloration, and more. It is important to remember, however, that the results typically only last for a few years at a time. Therefore, the long-term cost is higher than you might think.
Veneers – Veneers are incredibly unique since they can address a multitude of cosmetic dental flaws, are completely customizable, and can last for decades with proper care. In short, while the upfront cost (generally $1,000-2,000 per tooth) may be higher, the tremendous benefits make them well worth it. Plus, there are ways to make the total amount more affordable.
How to Make Veneers Affordable
Veneers typically aren't covered by dental insurance providers. Our cosmetic dentist in McKinney has an option to make achieving your smile goals more feasible. We offer financing through CareCredit. Divide your dental expenses into smaller payments to reduce your stress about moving forward with the procedure.
Also consider we offer a membership plan that provides 20 percent off the price of procedures, not to mention a number of treatments at no extra charge! Contact our team for a cosmetic consultation to learn more about treatments and payment details.
Veneers FAQs
Now you know all about the process of getting veneers in McKinney, as well as the benefits this cosmetic dentistry treatment comes with. But what if you still have a few questions on your mind before committing? We can help! If you'd like to do a bit more research before giving us a call, keep reading for the answers to a few frequently asked questions. If you can't find what you are looking for or would prefer to speak directly with our team, don't hesitate to get in touch!
Who Is a Good Candidate for Veneers?
Do you struggle with permanent discoloration? Are one or more chipped teeth stopping you from smiling confidently? Do you look in the mirror and wish there was a way to completely transform the appearance of your teeth? Then you may be a good candidate for veneers! To ensure you are eligible, our cosmetic dentist in McKinney, Dr. Hegazin, will complete a comprehensive oral exam at your initial consultation. If your teeth and gums are in good condition, then he will create your custom treatment plan. If they aren't, the appropriate treatment will be administered beforehand.
How Long Do Veneers Typically Last?
One of the amazing benefits of opting for veneers is that they can last 15+ years with proper care. To prolong their lifespan while simultaneously keeping your oral health in tip-top shape, make sure to brush twice a day, floss daily, and use mouthwash regularly. Cutting back on sugar, quitting poor dental habits, and visiting our office every six months for a checkup and cleaning are also important!
How Do I Get My Veneers to Match My Other Teeth?
The last thing you want is for your enhanced teeth to stick out like a sore thumb next to your natural ones. To ensure this doesn't happen, Dr. Hegazin will meticulously match the porcelain to your current shade of enamel, guaranteeing a flawless finish. If discoloration is one of your concerns, then a brighter shade of porcelain will be used and your other teeth can be whitened with a professional teeth whitening treatment. Either way, the end result will be seamless, natural-looking, and beautiful.
Does Getting Veneers Hurt?
If potential discomfort is what is holding you back from achieving your smile goals, you can have peace of mind knowing our team goes above and beyond to make the entire process pain-free. Not only will you be numb in the treatment chair, but any soreness once you return home is typically minimal. Plus, following your aftercare instructions, like sticking to soft foods, can avoid irritation and keep you comfortable.
How Much Do Veneers Cost?
Since each person's dental needs and smile goals are unique, the final cost depends on a variety of factors. Do you need restorative treatment beforehand? How many veneers are being placed? These are just a few of the answers our team will determine at your consultation. That way, we can provide you with the exact cost of perfecting your smile. Plus, we can go over each financial option available to ensure you get the quality dental care you deserve without breaking the bank!