Implant Dentures – McKinney, TX
Stabilize Your Denture with Dental Implants
After you lost your teeth in one or both arches, you probably turned to a traditional denture, like most Americans. Although they have a bad reputation for looking and feeling fake, they've come a long way over the years. Unfortunately, despite the latest innovations, they will always have their limitations. You don't need to settle for anything less than the best. You can enjoy the next best thing to your real teeth by anchoring your denture to your jawbone using dental implants, creating lifelike implant dentures in McKinney.
How Do Implant Dentures Work?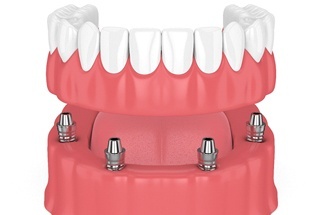 Your dentist takes an impression of your mouth to create an acrylic base for a traditional denture. It holds your custom-made prosthetic teeth and is held to your gum tissue using suction or an adhesive. This provides a convenient solution to quickly restore your ability to chew, speak, and smile, but there are several disadvantages. You'll still have dietary restrictions, and your new smile won't last forever.
Implant dentures in McKinney resolve many of the common complaints of the traditional method. An average of 4 to 8 implant posts are surgically placed into your jawbone to serve as new tooth roots. Your jaw fuses to the posts to secure your denture to your bone.
Am I a Candidate for Implant Dentures?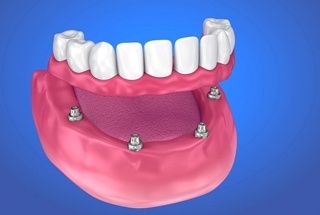 Implant dentures may be the solution for you if you've lost all your natural teeth in one or both arches. You will need a comprehensive consultation to evaluate your medical, dental, and lifestyle history. Besides a visual exam, you will also need a CT scan to see any issues that may be occurring beneath the surface, like bone loss. Depending on the results of the examination you may need additional treatments before having your posts placed, like bone grafting or a sinus lift.
The Implant Denture Process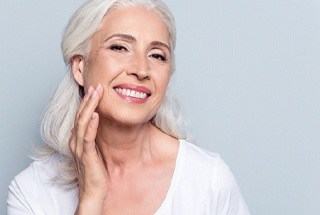 After you've healed from any previous treatments, the process of replacing your missing teeth will occur in multiple stages over the course of several months, but it's time well spent. Your implant posts are strategically placed into your jawbone during the first stage of your treatment. You'll spend the next few weeks healing as your jawbone fuses to the posts through a process called osseointegration.
Once your jawbone has healed, you'll have abutments placed on the posts. The special fixtures connect your custom-made denture to your posts. The dental lab carefully crafts your new smile to meet your exact specifications to ensure optimal aesthetics and function.
Benefits of Combining Dentures & Dental Implants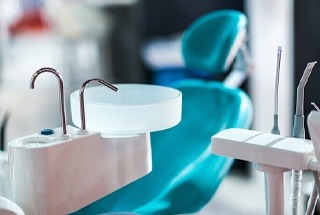 Securing your denture with dental implants allows you to enjoy a variety of benefits, including:
Over a 95% success rate to last for several decades.
Looks natural to smile, speak, and chew confidently.
Regain as much as 70% of your biting force.
Permanently eliminate slipping and irritation.
Preserves your jawbone's density.
Support your facial tissues for a youthful appearance.
Cost-effective, long-term solution.
Schedule Your Consultation Today!
If you're ready to replace your missing teeth with implant dentures in McKinney, Dr. Hegazin can help. Contact our dental office today to schedule your consultation for dental implants.