Root Canal Therapy – McKinney, TX
Save Your Tooth with a Root Canal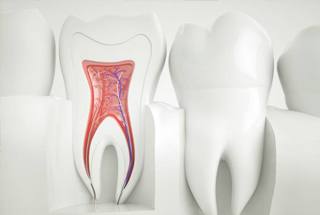 Do you have an infected tooth causing you pain? Do not worry. You do not need to have an extraction. Instead, Marble Dental Care can save your smile with a root canal in McKinney. The endodontic treatment removes the inner layer of your tooth to reinstate its health. The restorative procedure offers over a 96% success rate when performed by a qualified dentist like Dr. Zack Hegazin. He uses the latest techniques and technologies to promote a comfortable and successful treatment.
Signs You Need a Root Canal
A root canal is among the most common restorative treatments used with more than 15 million performed annually. Although they are widely used, Dr. Hegazin only recommends one when there are no other viable treatments to save your tooth. Besides performing an extensive examination, he also assesses your symptoms, which may include:
Darkening of your tooth.
Pain when placing pressure on a tooth.
Persistent toothache.
Lingering sensitivity to hot or cold temperatures.
Pimple-like bump appearing near the gum line.
What Can I Expect?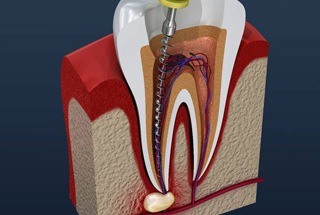 Dr. Hegazin takes digital x-rays to view the entire structure of your tooth to create a customized treatment plan. Although you may be hesitant to undergo the treatment because of its bad reputation, you have nothing to fear. Your dentist in McKinney uses the latest advancements in dentistry to ensure your comfort, so the treatment is no worse than a traditional filling.
Your procedure begins by removing the areas of damage and extracting the pulp of your tooth, which is the inner layer. Your tooth is then sterilized before it is sealed using a special material called gutta-percha. Now, its health is reinstated, but its function and appearance are still compromised. You need a dental crown to restore its integrity and aesthetics.
Marble Dental Care can give you the restoration you need in just one day with state-of-the-art technology. Dr. Hegazin takes a digital impression of your mouth to get the exact measurements needed for your dental crown. This is a custom-made cap placed over the entire visible portion of your tooth. The digital process improves the accuracy of your treatment while eliminating the need for a messy impression material.
The image integrates with CAD/CAM software. Dr. Hegazin sets the specifics for your restoration to ensure it meets your exact size, shape, and color needs. The information is sent to our in-office milling machine where your restoration is cut from a single block of all-ceramic material in about 1 hour. There is no need for a temporary crown or a second appointment.
Although the crown is created in just one day, rest assured it is durable. It can last for an average of 10 years before needing to be replaced if you care for it properly.
Save Your Smile Today!
If you have a damaged tooth, you do not need to have it pulled out. Dr. Hegazin can save your smile with root canal therapy. Contact Marble Dental Care today to schedule your consultation.