Root Canal Treatment – McKinney, TX
Save Your Tooth with a Root Canal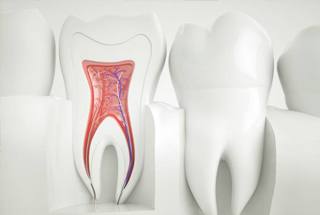 Do you have an infected tooth causing you pain? Do not worry. You may not need to have a tooth extraction. Instead, Marble Dental McKinney can save your smile with root canal treatment in McKinney. The endodontic treatment removes the inner layer of your tooth to reinstate its health. The restorative dentistry procedure offers over a 96% success rate when performed by a qualified dentist like Dr. Zack Hegazin. He uses the latest techniques and technologies to promote a comfortable and successful treatment.
Signs You Need a Root Canal
A root canal is among the most common restorative dentistry treatments used with more than 15 million performed annually. Although they are widely used, Dr. Hegazin only recommends one when there are no other viable treatments to save your tooth. Besides performing an extensive examination, he also assesses your symptoms, which may include:
Darkening of your tooth.
Pain when placing pressure on a tooth.
Persistent toothache.
Lingering sensitivity to hot or cold temperatures.
Pimple-like bump appearing near the gum line.
What Can I Expect During Root Canal Treatment?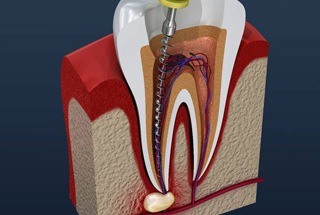 Dr. Hegazin takes digital x-rays to view the entire structure of your tooth to create a customized treatment plan. Although you may be hesitant to undergo the treatment because of its bad reputation, you have nothing to fear. Your dentist in McKinney uses the latest advancements in dentistry to ensure your comfort, so the treatment is no worse than a traditional filling.
Your root canal procedure begins by removing the areas of damage and extracting the pulp of your tooth, which is the inner layer. Your tooth is then sterilized before it is sealed using a special material called gutta-percha. Now, its health is reinstated, but its function and appearance are still compromised. You need a dental crown to restore its integrity and aesthetics.
Marble Dental McKinney can give you the restoration you need in just one day with state-of-the-art technology. Dr. Hegazin takes a digital impression of your mouth to get the exact measurements needed for your dental crown. This is a custom-made cap placed over the entire visible portion of your tooth. The digital process improves the accuracy of your treatment while eliminating the need for a messy impression material.
The image integrates with CAD/CAM software. Dr. Hegazin sets the specifics for your restoration to ensure it meets your exact size, shape, and color needs. The information is sent to our in-office milling machine where your restoration is cut from a single block of all-ceramic material in about 1 hour. There is no need for a temporary crown or a second appointment.
Although the crown is created in just one day, rest assured it is durable. It can last for an average of 10 years before needing to be replaced if you care for it properly.
Root Canal FAQs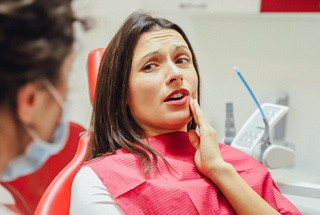 Are you looking into a root canal in McKinney? If so, you're making a good move – the treatment could save your infected tooth! That said, learning about the procedure before you commit is still a good idea. Doing so would help you feel confident in your treatment decision. Fortunately, Marble Dental McKinney can help you along: here are some answers to oft-asked root canal questions. By reading them, you'll better understand this therapy's features! If you need other details, though, feel free to call our office.
Can I Eat Before a Root Canal?
With regard to eating before a root canal, there isn't a one-size-fits-all answer. How and whether you can eat will depend on your treatment's details.
If you'll be sedated for your procedure, it's best to fast for a few hours beforehand. Otherwise, the sedative could cause you to experience nausea. You wouldn't want that to happen, right?
Should you forego sedation, try to eat a healthy meal shortly before the procedure. Your mouth will feel numb following treatment, making it difficult to eat.
Regardless of sedatives, avoid alcohol for 24 hours before the procedure. The chemical could interact negatively with the anesthetic used to numb your mouth.
How Long Does a Root Canal Take?
A root canal can usually be done in just one dental visit. That said, there are exceptions where two might be needed. In those cases, the first appointment places pain-relieving medicine in the tooth. Only at the later, second visit is the pearly white's interior cleaned out.
As for treatment time, a root canal doesn't take too long. Depending on the tooth's location, a dentist can usually finish it in 30 to 90 minutes. If the chomper is further back in the mouth, chances are the procedure will need more time.
How Much Pain Is Normal After a Root Canal?
Really, the root canal procedure itself shouldn't hurt. Some discomfort and soreness afterward, though, is perfectly normal.
You'll likely feel pain and sensitivity when the therapy's anesthetic wears off. However, these symptoms are temporary and should fade with time. You can also manage them with over-the-counter pain relievers like ibuprofen. Still, avoid hard foods during recovery – these could worsen discomfort. Furthermore, call a dentist immediately if your pain doesn't subside after three days.
Why Do I Need a Root Canal If My Tooth Doesn't Hurt?
True, intense tooth pain is a common sign you need a root canal. Even so, it's not the only one.
You see, lacking an ache doesn't mean your tooth is fine. It could be that its nerve has "died," such that it can't register pain anymore. If so, a serious infection could still be present without causing discomfort. The only way to know for sure is by getting routine dental checkups.
Despite not feeling pain, then, try to book your root canal as soon as possible. That way, you can prevent further damage to the tooth or surrounding teeth.
Save Your Smile Today!
If you have a damaged tooth, you do not need to have it pulled out. Dr. Hegazin can save your smile with root canal treatment. Contact Marble Dental McKinney today to schedule your consultation.