Tooth Extraction – McKinney, TX
A Painless and Stress-Free Tooth Extraction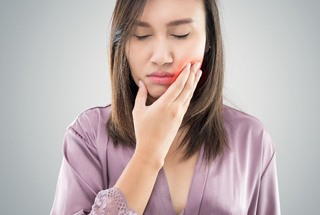 Dr. Zach Hegazin tries his best to avoid tooth extractions in McKinney, but sometimes, it's the only available option to restore a patient's dental health. In the event that you need a tooth extraction, you want to be sure that the procedure can be done in the safest and most effective manner possible. To have the peace-of-mind you're looking for, contact our McKinney office today to schedule a visit with Dr. Hegazin, so you can move forward with having your oral health fully restored.
Why You May Need a Tooth Extraction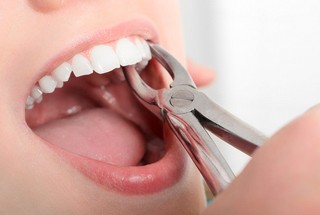 One of the more common reasons for a tooth pulling in McKinney is advanced tooth decay, which is the result of acute oral bacteria growth. The microorganisms, if allowed to continue multiplying unfettered, will eventually travel beyond the enamel and dentin and into the sensitive inner areas of the tooth. When too much of the material is damaged, the only remaining option is to extract the tooth.
Another reason that you may need an extraction is that a tooth has partially erupted. This can leave you more susceptible to an oral bacterial infection and bite issues. By having the tooth extracted, you can have somewhat of a "clean slate" and avoid the domino-effect of problems that can arise if the issue goes ignored.
How Does a Tooth Extraction Typically Work?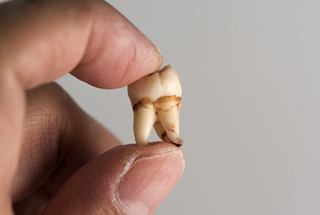 While the idea of having a tooth extracted can elicit thoughts of medieval torture for some people, the reality is that you have nothing to worry about. Dr. Hegazin will make sure that before the procedure starts, the treatment site is completely numb. He'll then use a special tool called an elevator to free the tooth from the underlying ligaments.
In the case of an impacted tooth, your dentist in McKinney will make an incision in the gums to gain access. After removing the tooth, Dr. Hegazin will stitch the socket and place a gauze over the area to allow you to heal properly. To further encourage the healing process, he'll provide you with some simple instructions.
Key Post-Operative Tips
The extraction of a tooth is just part of the restoration process. Its success ultimately rests in your hands. Here are some helpful tips to encourage a full recovery:
Take ibuprofen for pain relief for up to three days after the procedure is completed.
Avoid tobacco usage, as the toxins can cause the blood clot to fail, which could lead to a painful infection.
Eat soft and cool foods like apple sauce or yogurt, and try to avoid chewing on the treatment side of your mouth.
While smoothies are an excellent way to take in the vital nutrients your body needs, you should avoid using a straw, as it can cause the blood clot to dislodge.
Because Dr. Hegazin takes a conservative approach to performing tooth extractions, you can have the assurance of knowing that all other possibilities have been exhausted and that the absolute best route is being taken. To have your oral health fully restored, contact our office to schedule a visit.
Tooth Extraction FAQs
When the time comes for a tooth extraction, we want you to feel as well informed about the situation as possible. Below are some extraction questions that we frequently hear from our patients along with thoughtful, detailed answers. We hope that the information here helps alleviate any concerns you have about having your teeth removed, but if there is still something on your mind, you can reach out to our office with your own inquiries.
Will My Extraction Hurt?
During the procedure itself, we can numb your mouth administer dental sedation to help you feel as comfortable as possible. This often means you experience little to no pain during the actual extraction. Afterwards, though, mild to moderate pain is not uncommon. You might be prescribed a painkiller, but in other cases over-the-counter medication like ibuprofen will work fine. The discomfort should subside after a few days of healing. If it lasts any longer than that, then it could mean that the extraction site has become infected or that another type of complication has occurred.
How Long Should the Bleeding Last?
Most of the bleeding occurs immediately after the extraction. We'll have you bite down on a piece of gauze to keep it under control. Some blood might ooze out of the wound periodically over the next 12 to 24 hours, and you shouldn't be alarmed if this happens. Normally, a blood clot should form in the socket to stop the bleeding; it's important to protect this clot from becoming dislodged so that your mouth has a chance to heal normally. If bleeding persists, or if it starts up again after it seemingly stopped, then you need to let us know as soon as possible.
How Long Should It Take for the Gums to Fully Recover?
The initial healing period is about one to two weeks; this is the amount of time it usually takes for the gum tissue to heal and cover the site. The exact amount of time varies depending on the situation. For example, your mouth will normally need less time to heal if the tooth that was removed was one of the smaller ones towards the front of the mouth; larger teeth, such as the molars, tend to have larger root systems and thus take longer to recover from. Note that it will take three to four weeks for the socket site to mostly heal itself, and it will take around four months for the underlying bone to return to normal.
How Will I Know if Something is Wrong?
Following our instructions should minimize your risk of complications after an extraction, but it's important to keep an eye out for symptoms of a serious problem such as an infection. Such warning signs might include:
Persistent pain and discomfort.
Swelling that lasts more than a couple of days after the tooth is removed.
Fever and nausea.
Bleeding that doesn't stop, to the point that the mouth is filled with blood.
If you have any reason to think something has gone wrong during the recovery process, call us right away.