McKinney, TX Dentist
Get to Know Zack Hegazin, DDS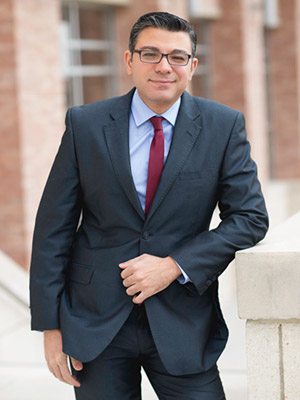 Dentistry Built on Kindness
From an early age, Dr. Hegazin experienced firsthand just how uplifting dentistry can be when it's combined with compassion. This motivated him to become a dentist himself, and even after he started practicing, he knew it was important to donate his time and skills to people who normally wouldn't have access to them. His kind nature is something that always leaves an impression on our dental patients, and it's a big reason why he's able to put a smile on so many faces.
Why did you decide to become a dentist?
Dr. Hegazin has had personal experience with dental problems from a young age. He broke his tooth as a child and also had significant spacing issues that required treatment. Because of this, he realized just how much a person's smile can affect their self-confidence and personality early on. He considers it his mission to help patients smile with confidence again, and he is very grateful to God for opening the door to this career for him, as well as giving him a heart that's compassionate towards the needy and underprivileged.
Today, Dr. Hegazin has been practicing dentistry for over 10 years, and he is proud to have his own dental practice where he can treat his patients like family and provide excellent care that results in long-term relationships.
Where did you study dentistry?
Dr. Hegazin achieved his dental degree at Loma Linda University in California, graduating with honors. He also received the OKU award for excellence and was regarded as one of the top members of his class! Today, he is a proud member of the following organizations:
American Dental Association
American Academy of General Dentistry
North Texas Dental Society
Dallas County Dental Society
Dr. Hegazin also takes the time to complete hundreds of hours of continuing education every year in order to stay on the cutting edge of modern dentistry. He particularly focuses on dental implants, sleep apnea, and cosmetic dentistry.
When you're not at work, what do you like to do?
Outside of his dental practice, Dr. Hegazin continues to serve his community through charity work. He volunteers at many local dental clinics and has also participated in international medical missions. He's also helped with food delivery in Dallas, a homeless shelter in McKinney, and the McKinney Chamber of Commerce.
At home, you'll often find him playing soccer or watching the Cowboys!