Dental Bridges – McKinney, TX
Replace Multiple Lost Teeth All at Once
If you have one or more missing teeth, you're probably weighing your tooth-replacement options. Amidst all of the available possibilities, dental bridges in McKinney are one of the most popular and effective treatment options. They can effectively address moderate tooth loss and restore your smile in terms of look and functionality! To learn more about dental bridges, continue reading below. To request additional information or schedule a consultation, don't hesitate to give us a call!
Why Choose Marble Dental McKinney for Dental Bridges?
Comfortable Office with Modern Amenities
Friendly and Experienced Dental Team
Beautiful Results You'll Love Showing Off
What Is a Dental Bridge?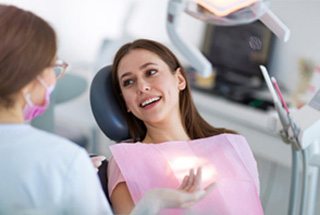 A dental bridge is a device that's used to close the gap left behind from a missing tooth or multiple missing teeth. It permanently anchors the artificial tooth (or teeth) to the adjacent, existing teeth and jaw, successfully filling in the open gap. This restoration is critical in preventing teeth from drifting into this missing space and causing problems with your bite. Dental bridges are also natural-looking and don't feel awkward or uncomfortable once they've been added.
Types of Dental Bridges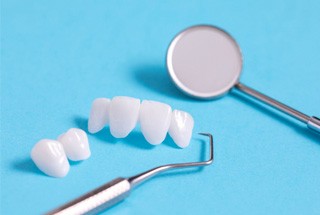 The only way to determine which type of dental bridge is ideal for your situation is by visiting us for a consultation. That said, we're thrilled to offer traditional dental bridges and implant bridges depending on your smile's needs. Here's a little more about what you can expect from each:
Traditional Dental Bridge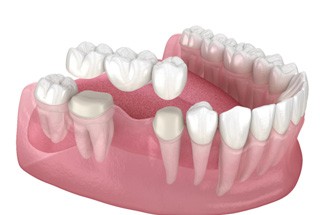 A traditional dental bridge is often an excellent option for patients missing one tooth or missing a few teeth in a row. During the process of receiving your bridge, we'll remove a tiny portion of enamel to make room for the crowns that'll be fitted to the adjacent teeth. However, this slight alteration isn't anything you need to worry about as it helps to ensure the lasting success of your bridge. We'll then cement your restoration in place so that it remains there for many years to come!
Implant Bridge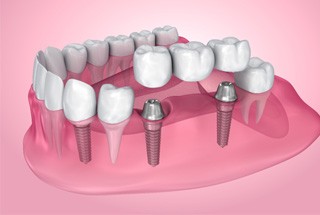 While traditional dental bridges rely on healthy adjacent teeth for support, implant bridges are directly anchored to your jawbone with the assistance of dental implants. Due to this impressive level of stability, your restoration will have a much longer lifespan, feel more natural, and return more of your biting power! They're often best for patients with two or more missing teeth, and they require no alteration to your existing teeth.
The Benefits of Getting a Dental Bridge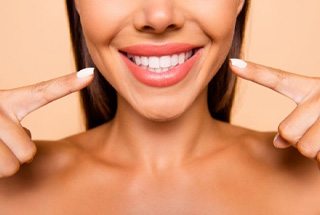 Dental bridges in McKinney have several awesome benefits to offer, including:
Bridges are a customized dental restoration that blend in with your natural smile
They're able to replace one or several missing teeth in a row
They restore and improve your chewing power
They help prevent misalignment issues
They're capable of lasting 10+ years with proper care (or several decades with implant bridges)