ClearCorrect - McKinney, TX
Straighter Teeth. No Metal.
Dr. Zack Hegazin can help patients achieve a beautiful and straight smile using ClearCorrect in McKinney as a discreet, more comfortable alternative to traditional metal braces. This orthodontic treatment uses a series of clear aligner trays made from BPA-free Zendura® plastic. Each tray is designed to fit precisely over your top and bottom teeth to correct bite disorders and shift the teeth into proper alignment.
Because the trays are removable, patients can eat without fear of damaging brackets or arch wires as well as effectively maintain their oral hygiene by brushing and flossing regularly. Compared to other aligner systems, ClearCorrect proudly makes each and every aligner in the United States.
Are You a Good Candidate for ClearCorrect?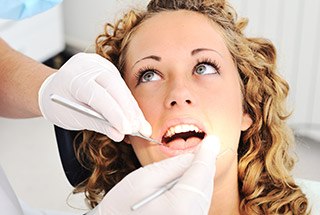 The best candidates for ClearCorrect are patients with mild to moderate dental misalignment and jaw placement issues, such as:
Gapped teeth
Overlapping teeth
Crooked teeth
Overbite
Under bite
Open bite
Cross bite
Overly crowded teeth
For patients with more severe dental misalignments, traditional metal braces may be recommended to help achieve cosmetic goals. During an initial consultation, Dr. Zack Hegazin will perform a thorough evaluation using X-rays and impressions to determine which orthodontic treatment is best suited for your unique needs. If you are a good candidate for ClearCorrect, he can send the impressions to a ClearCorrect lab to design your custom-made aligner trays. The fabrication of the trays can take anywhere from two to three weeks.
How ClearCorrect Works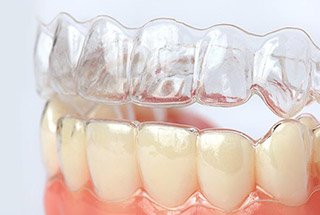 Compared to conventional orthodontic treatments, ClearCorrect offers an innovative solution to achieving a straighter smile. While traditional braces involve brackets, arch wires, and ligature elastics secured to the front of the teeth, ClearCorrect provides a series of clear aligners designed to apply mild pressure.
Each tray should be worn at least 22 hours a day consecutively for two weeks before progressing to the next. Dr. Hegazin will monitor your results periodically to ensure your teeth are responding well to the aligners. Fresh impressions will be taken and a new set of aligners are provided every few weeks. Depending on the severity of your dental misalignment, treatment can generally be completed in just six to 12 months. For patients seeking a quicker alternative to straightening their smile, we also offer other orthodontic options.
The Benefits of ClearCorrect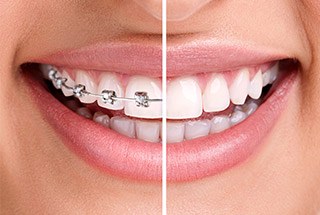 This aligner system provides quicker results than traditional braces and is extremely beneficial for adult patients looking for a subtle solution to straightening their teeth. After treatment is completed, you will be able to enjoy a healthier, straighter, and more attractive smile.
Compared to traditional braces, the benefits of ClearCorrect include:
Discreet, virtually invisible treatment
Generally fewer appointments
Removable trays for easy eating and cleaning
More comfortable
No food restrictions
Does Dental Insurance Cover Orthodontic Treatment?
Although many dental insurance companies provide orthodontic coverage—especially for younger patients—there can be limitations on how much they will cover. To help alleviate any out-of-pocket costs you may incur, we accept financing through CareCredit® in addition to offering in-house payment plans. We never want cost to prevent you from receiving the care you need and from achieving the smile of your dreams.
To schedule a consultation and start getting the straighter smile you've always wanted, contact us today.
ClearCorrect FAQs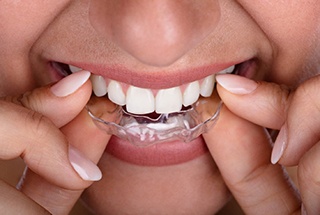 Are you considering ClearCorrect aligners to improve your smile? When choosing the right orthodontic treatment for you, the team at Marble Dental McKinney understands you may have many questions. We want our patients to feel comfortable and knowledgeable about their chosen treatment, which is why our team will also be clear, concise, and completely transparent about what you can expect. To help you in your decision-making process, we've compiled some frequently asked questions about ClearCorrect in McKinney to help you better understand the process and more intricate details of this type of orthodontic care. If you have any additional inquiries, please make sure to contact our office.