Crown Lengthening - McKinney, TX
Reveal Your Brilliant Smile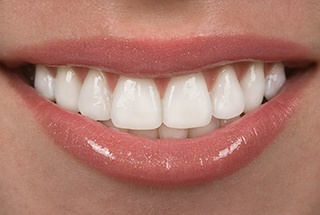 Due to genetics, some people can have an excess amount of gum tissue covering their teeth. As a result, their smile not only appears "gummy," but it also makes their teeth look shorter than they actually are. Gum tissue is important for protecting the vulnerable areas of teeth, but that doesn't mean you should have to settle for a smile you don't feel confident showing off! With highly personalized crown lengthening in McKinney, also known as gum recontouring, you can achieve the smile of your dreams at Marble Dental McKinney! Call Dr. Hegazin today to schedule your next appointment!
What Is Crown Lengthening?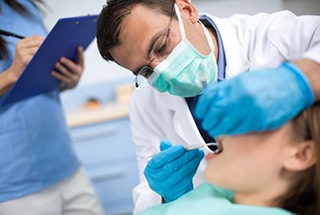 A relatively simple procedure, crown lengthening is a treatment that's often performed for cosmetic purposes, but can also be done for restorative purposes if needed. It's essentially designed to lift and recontour the gum tissue (and potentially bone) to expose more of a tooth's surface. There are a few instances where crown lengthening may be recommended.
For example, if a dental crown or bridge is needed but there isn't enough tooth in place to hold the restoration, crown lengthening can ensure that it has a firm foundation to rely on. The better a crown fits, the more comfortable it feels and the easier it becomes to maintain through oral hygiene.
Alternatively, crown lengthening may be performed if the smile is covered by excess amounts of gum tissue, causing teeth to appear stubby or short. Treatment makes the smile fuller and more visible overall.
Am I a Candidate for Crown Lengthening?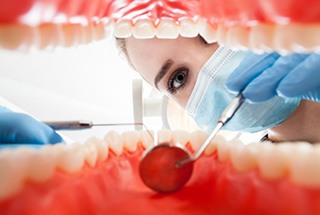 Before you can complete a crown lengthening procedure, Dr. Hegazin will need to perform a detailed exam of your gums and teeth to ensure no problems are currently present. For example, if you have tooth decay or gum disease, these issues must be handled beforehand. If you have good oral health, the treatment becomes far less risky to perform and ensures a better outcome. Those who have aesthetic concerns with their smile or need to make room for a restoration will find crown lengthening to be a very beneficial treatment.
What Can I Expect During Crown Lengthening?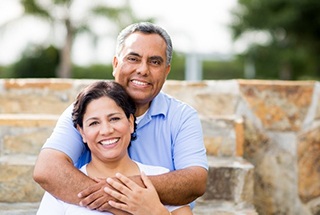 Prior to your treatment, we'll make sure to provide a local anesthetic to numb all sensation in the mouth. If requested, we'll administer sedation at this time. After making a small incision in the gum tissue, pulling it away from the teeth, and exposing the roots and bone, Dr. Hegazin will use a series of specialized dental instruments to begin recontouring your gums. Once treatment is completed, he'll suture the gum tissue and place a bandage over them for additional protection. Since gum recontouring is an outpatient procedure, you'll be able to go home the same day to start the healing process. He'll go over your aftercare instructions in more detail as well as discuss potential painkillers you can take as your gums heal.