Teeth Whitening – McKinney, TX
Get Dramatic Whitening Results
Let's face it. Over time, deeply colored foods and drinks can stain your teeth, making them appear dull or yellow. Add that to the natural wear and tear that your teeth experience, and you've got a smile that can make you look older. If you've ever tried whitening products from the store, you likely already know just how unimpressive the results can be. But by whitening your teeth through Marble Dental Care, you'll have access to our powerful whitening solutions that are proven to produce a brighter, more radiant smile.
In our McKinney office, we offer two methods of teeth whitening: in-office treatment and take-home kits. Each option has its own advantages and disadvantages, but both yield dramatic results by the end of treatment.
In-Office Treatment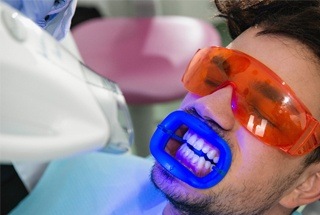 If you need your teeth whitened in a hurry, perhaps the best choice for you is our in-office treatment. With this option, we do the work for you, allowing you to sit back and relax during the entire process. In just one appointment, you can have noticeably brighter teeth that have a youthful glow.
So how does the process for in-office treatment work? First, we perform a dental cleaning to ensure that you don't have debris in your mouth that could interfere with your results. We also isolate your teeth to protect your gum and cheek tissue. Then, we apply the highly concentrated solution and shine a special bright light on your teeth to activate the whitening agent. We may need to put on multiple coatings for better results, but by the end of your appointment, you'll be excited to show off your new pearly whites.
Take-Home Kits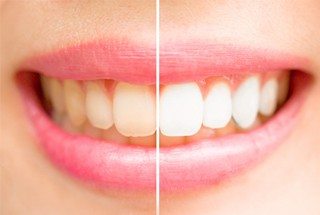 As fast as the in-office treatment is, it requires about an hour for the appointment out of your busy schedule. If you prefer, we also offer take-home kits that allow you to conveniently whiten your teeth from the comfort of your own home. Over the course of about two weeks, you can enjoy the same brightness without the fuss of a long dental appointment.
After we take impressions of your mouth, we send that information to a lab where custom trays are made. When they're ready, we instruct you on how to apply the whitening gel to the trays for the best results. At home at night, you brush and floss your teeth, put in the gel, and wear the trays for as long as we told you. Meanwhile, you can watch your favorite shows or play on your phone—basically do whatever you want, except eat, of course. Over your treatment time, you should see your teeth steadily grow whiter.
Making Your Whitening Last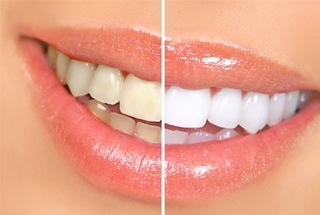 Unfortunately, your whitening treatment won't last forever, but you can extend its lifespan if you take care of your smile in the following ways:
Brush and floss your teeth daily.
Alternate between a whitening toothpaste and regular or sensitive toothpaste.
Visit our office for your dental checkup and cleaning every six months.
Avoid darkly pigmented foods and drinks like coffee, tomato sauce, soy sauce, and chocolate.
Consume more white, non-staining foods and drinks like cauliflower, almonds, and milk.
Use our refresher kits that help restore your teeth's whiteness as it begins to fade again.
At Marble Dental Care, we want to help you achieve your smile goals and feel confident in showing your teeth to the world. Contact us for a consultation to get started with teeth whitening today!