Tooth-Colored Fillings – McKinney, TX
A Great Way to Treat Tooth Decay
If you're of a certain age, you might hesitate to fix your tooth decay. After all, gaudy metal fillings were often the only solution until recently. The truth, though, is that you have more treatment options now. In particular, you could get tooth-colored fillings in McKinney! These kinds from Marble Dental McKinney repair your smile seamlessly. If you'd like to learn more about them, keep reading or book a visit with our dentists!
What Are Tooth-Colored Fillings?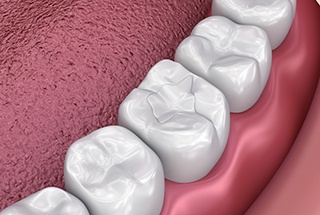 As you might know, fillings are substances that repair or restore teeth. These materials "fill in" holes or cavities left by decay and other tooth damage. The result is that your pearly whites stay healthy in the long run.
Tooth-colored fillings, then, are ones color-matched to your enamel. Dental labs make them from composite resin — a putty-like mixture of plastic and glass particles. Consequently, they're metal-free and tend to be safer than metallic types. Their materials, for instance, don't cause allergies related to silver or gold fillings.
Still, tooth-colored fillings' defining feature is their appearance. Being designed to blend with your smile, they'll make a tooth look like it never even had a cavity!
The Process of Getting a Tooth-Colored Filling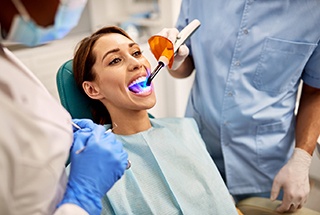 Usually, you can get a tooth-colored filling in just one dental visit. The process, in fact, only takes an hour.
Our dentists follow various steps when placing fillings. First, they numb your mouth so that treatment doesn't cause pain. From there, the team removes your tooth's decayed enamel and cleans its innards. They then apply the filling itself (i.e., composite resin) in layers, only stopping when your lost enamel is essentially restored.
Once the filling is placed, the dentists will add some final touches. For one, they'll harden the resin layers with an ultraviolet curing light. Lastly is a polish that will make your tooth look brand new!
The Benefits of Tooth-Colored Fillings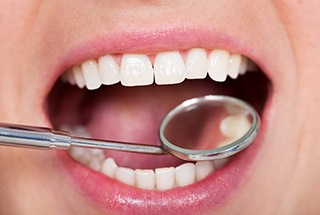 Given their unique traits, tooth-colored fillings have a great many benefits. Common ones include:
Less Invasive Treatment: Tooth-colored fillings remove less enamel than other kinds, thus preserving more of your natural tooth structure.
Less Sensitivity: By bonding to your enamel, composite resin shields your tooth's nerves from upsetting stimuli.
Natural Looks: Tooth-colored fillings use custom resin to blend seamlessly with other teeth. Plus, they don't cause a tooth's surroundings to appear gray like metal fillings often do.
Great Durability: If you take proper care of them, these fillings can last up to 7 years. Better yet, this maintenance only requires basic brushing, flossing, and dental visits.