Dentures – McKinney, TX
High-Quality Full Smile Replacement Options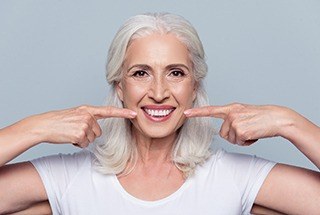 Tooth loss can significantly impact your day to day life. Whether you've lost just one tooth or a full row of teeth, the Marble Dental McKinney team is here to help put the smile back on your face. In our state-of-the-art dental office, we offer a wide range of tooth replacement options, from fixed bridges and dentures to complex dental implant supported prosthetics. When you're ready to get started putting the smile back on your face, give our team a call today. We'll schedule a tooth-replacement consultation appointment to review your options and partner with you to create a restoration plan that will deliver a picture-perfect smile you'll be proud to share.
Who is a Candidate for Dentures?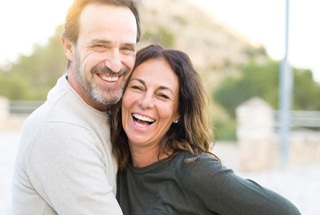 If you're wondering about whether or not dentures in McKinney are right for you, the best way to know is to contact our dental office for a consultation. Dr. Hegazin will carefully examine your smile, the areas where you're missing teeth, and your overall oral health. It's important to understand that any preexisting dental problems must be treated before you can receive dentures. After your consultation, Dr. Hegazin will be able to provide you with a personalized treatment plan with the best dentures for your smile.
The Benefits of Dentures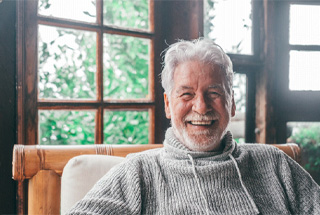 If you've been struggling with missing one, several, or all your teeth, then you know how difficult it can be to perform daily tasks like eating, talking, and smiling comfortably. Not only can this affect your speech and diet, but your self-esteem may also take a hit. However, by choosing to restore your pearly whites with dentures, you'll be able to enjoy sharing a confident grin with the world once again! Read on to discover the benefits of dentures in McKinney from your dentist.
Psychological Benefits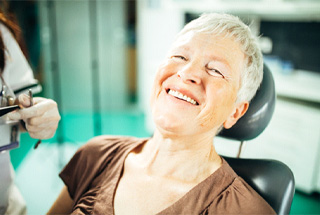 Losing any teeth can have a major impact on your self-confidence and quality of life. Many people who've suffered tooth loss end up experiencing an increased risk of social anxiety, sadness, and even depression. By restoring your smile with help from your denture dentist in McKinney, you can avoid worrying about how you look when you talk or laugh. Since you'll be able to eat and speak more confidently again, you'll also enjoy a boost in self-esteem when engaging in social activities.
Clearer Enunciation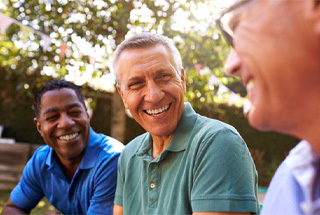 It can be challenging to pronounce certain words whenever you're missing teeth. This is because your lips and tongue interact with them to execute proper speech. Without clear enunciation, it can be difficult to communicate effectively. Since dentures restore your entire smile, they can make it easier for you to converse with others again. While this may take some practice to get accustomed to using them, you'll be able to speak more fluently and confidently in no time!
Improves Nutrition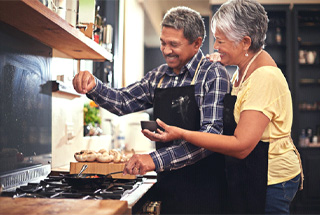 Tooth loss can impact the appearance of your smile and the kinds of foods you can eat. If you can't chew your meals thoroughly, you might experience problems like indigestion and malnutrition. By restoring your teeth with dentures in McKinney, you'll regain the capability to break down your food, expanding the scope of your diet. Plus, you'll be free to consume meals containing essential nutrients to boost your health.
Preserves Oral Health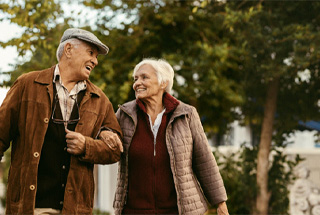 Whenever you're missing teeth, adjacent teeth can begin to shift out of place to fill in the gap. If left unchecked, there is potential for further tooth loss and jawbone resorption. These possible complications can be avoided by getting dentures to help stabilize your smile. Your restorations are able to withstand more chewing pressure and prevent further wear and tear of your remaining natural teeth.
Expands Opportunities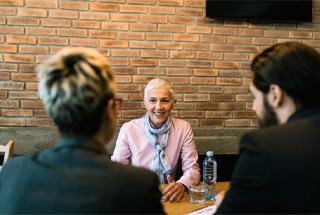 Your grin is one of the most crucial aspects of a first impression since it's one of the main things people will notice about you. This is especially the case during job interviews, social gatherings, and even first dates. In fact, according to a 2019 study, poor oral health was closely associated with a lower probability of being employed. For this reason, regaining your complete smile with dentures will improve your health as well as boost your career and personal opportunities in the years to come!
Types of Dentures
We offer different types of dentures based on your pattern of tooth loss, including:
Partial Dentures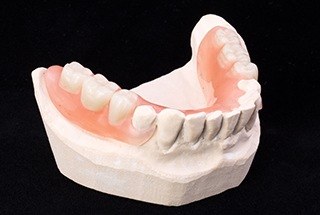 Partial dentures are tooth replacement prosthetics used to fill the gaps in your smile following the loss of multiple consecutive and nonconsecutive missing teeth. A gum colored base is molded to fit between remaining teeth. Then, the replacement teeth are attached to the base material seamlessly closing the gaps in your smile. The entire prosthetic is anchored to surrounding healthy teeth with clasps.
Full Dentures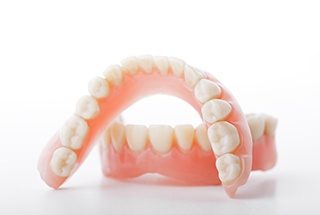 If you've lost one or both full rows of teeth, a full set of dentures can, quite literally, put the smile back on your face. Because there are no remaining teeth to offer support, full dentures need to be crafted to fit against the gums. When fitted correctly, the base of your denture will create suction with the gum line that holds the denture in place.
Implant Dentures
While traditional removable dentures replace the parts of your teeth that are visible above the gum line, they leave out the very important supportive tooth root structure. For added stability and longevity, dental implants can be used to replace the tooth roots and support your partial or full denture.
Understanding the Cost of Dentures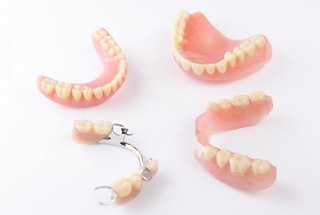 If you'd like to replace any missing teeth with dentures, you'll likely want to know how much they'll cost. Since every restoration will be custom-crafted for each specific patient, it's nearly impossible to give you an exact estimate without visiting us. During your initial consultation, we can evaluate your situation and discuss what you can expect from the overall cost of dentures in McKinney. In the meantime, feel free to read along to learn more about the financial aspects of this effective, restorative treatment.
Factors That Affect the Cost of Dentures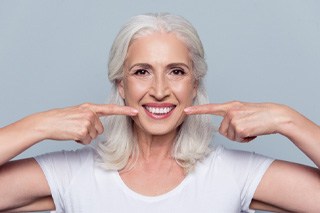 Several factors can impact the cost of your restorations, including:
The severity of your tooth loss, such as needing to replace a few or all of your teeth.
The materials used for your dentures, like porcelain or acrylic.
The need for any additional treatments beforehand, such as gum disease therapy or tooth extractions.
While you research the price of dentures, be aware that a lower cost isn't typically of better value. Restorations constructed from low-grade materials may have a more convenient initial price, but they won't work as well as professional ones. They may also need more frequent replacements, which will drive up your expenses in the long run.
Are Implant Dentures More Expensive?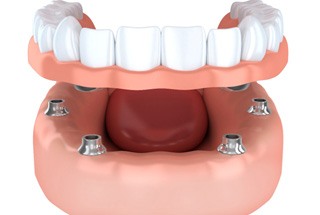 Implant dentures do have a higher initial cost since they require the placement of titanium posts through oral surgery. However, they do provide numerous essential benefits for your smile. By being directly anchored to your jawbone, you won't have to worry about accidental slippage while eating or talking. This can also allow you to maintain a much healthier diet as you won't have any food restrictions with your new pearly whites. Implant dentures will look and feel like natural teeth, and you can expect them to last 20+ years with proper care for a more permanent tooth-replacement solution!
Does Dental Insurance Cover Dentures?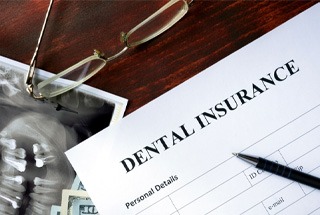 Since dentures are considered an essential restorative dental procedure, there's a high chance that your dental insurance provider can cover around 50% of the cost of your treatment. Each policy is different, however, so you'll need to speak with your insurance company to understand the details of your plan before committing to anything. Our team is in-network with various providers, and we'll be more than happy to help you navigate the fine print in your policy so that you can maximize your benefits!
Other Options for Making Dentures Affordable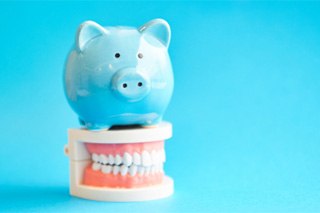 Even if you don't have dental insurance, you may be eligible for alternative payment plans. We work with a third-party financier called CareCredit that offers multiple financing options that can break up the cost of treatment into monthly installments with little-to-no interest. We also have an in-house discount plan that can help cover a wide range of services with just one low annual fee! If you think you can benefit from either of these, feel free to consult our team to see if you qualify!
Denture Aftercare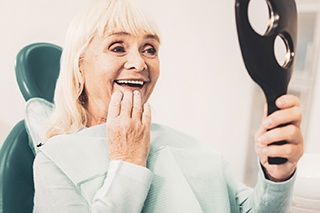 True enough, dentures can (and will) transform your smile's look and function. However, that fact doesn't mean they don't need proper upkeep. These prosthetics need regular maintenance and care to work well. As such, you must attend regular dental checkups and practice good oral habits. As for what the latter step looks like, we at Marble Dental McKinney can help. Below, you'll find some tips on how you should go about caring for dentures. Please read them over to ensure your new grin lasts long!
Removeable Dentures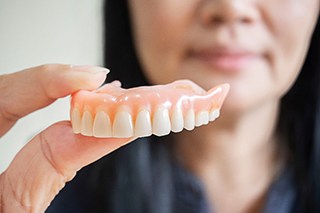 Remove After Eating
Make sure to remove and rinse your dentures after every meal. This habit will keep them from building up food deposits, plaque, and other debris. Meanwhile, skipping the rinse would raise your odds of gum disease and other infections.
At the same time, don't use hot water for the rinse. High temperatures can actually warp the materials in dentures. Therefore, heated liquids could cause the restorations to fit poorly.
Clean Your Restoration
In truth, you should clean your dentures once daily. However, unlike natural teeth, they should be outside your mouth when you do.
For the denture cleaning process, you'll need a soft-bristled toothbrush and some hand soap. Avoid regular toothpaste, as dentures can't stand up to its abrasiveness. Assuming any is available, you could substitute a denture cleanser for the soap.
If you don't wear the dentures again immediately, give them a good soak. Namely, clean them in a container of water or denture solution so they don't dry out or lose shape. Said denture solution shouldn't go in your mouth, so always rinse the dentures before re-inserting them.
Keep Your Dentures Safe
Dentures are surprisingly fragile, being easily damaged at times. As such, it's best to keep them safe when they're out of your mouth.
There are, of course, various ways to protect dentures. When cleaning the restorations, you could place a towel below them to cushion a fall. Another idea is to store the prosthetics away from kids and pets.
Remove Dentures When You Sleep
Even if you're tempted, don't go to bed with dentures still in your mouth. Instead, please place them in a soaking solution so they don't lose shape overnight.
You see, wearing dentures to sleep causes oral problems. The prosthetics naturally restrict gum circulation, meaning extended use will lead to soft-tissue irritation. Furthermore, the act will raise your risk of pneumonia and elevate gum and tongue plaque levels.
Notice Changes
As you start wearing dentures, watch for any changes in them or your mouth. You'll want to address them with your dentist at once.
For starters, dentures may become ill-fitting over time. As they then start to shift or click, the prosthetics could cause mouth sores or gum irritation. So, keep such effects at bay with a dental visit – a dentist can always reline or replace the restoration.
Whatever you do, don't try to repair damaged dentures yourself. You'd likely cause further harm to them. Instead, give your dentist a call.
Dentures FAQs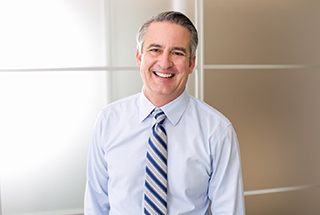 Thanks to advancements made in modern dental technology, today's dentures are nothing like the ill-fitting false teeth your grandparents wore. Nowadays, dentures in McKinney are designed to look and feel as close to your natural pearly whites as possible. However, there is still a lot of misinformation floating around about dentures. To clear things up and help you make a more well-informed decision regarding your oral health, we've answered a few frequently asked questions about dentures below.