Dentures – McKinney, TX
High-Quality Full Smile Replacement Options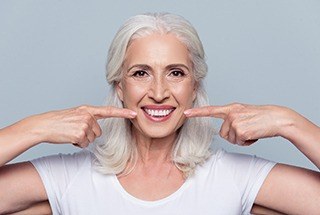 Tooth loss can significantly impact your day to day life. Whether you've lost just one tooth or a full row of teeth, the Marble Dental Care team is here to help put the smile back on your face. In our state-of-the-art dental office in McKinney, we offer a wide range of tooth replacement options from fixed bridges and dentures to complex dental implant supported prosthetics. When you're ready to get started putting the smile back on your face, give our team a call today. We'll schedule a tooth-replacement consultation appointment to review your options and partner with you to create a restoration plan that will deliver a picture-perfect smile you'll be proud to share.
Who is a Candidate for Dentures?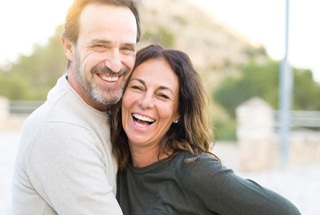 If you're wondering about whether or not dentures in McKinney are right for you, the best way to know is to contact our office for a consultation. Dr. Hegazin will carefully examine your smile, the areas where you're missing teeth, and your overall oral health. It's important to understand that any preexisting dental problems must be treated before you can receive dentures. After your consultation, Dr. Hegazin will be able to provide you with a personalized treatment plan with the best dentures for your smile.
Benefits of Dentures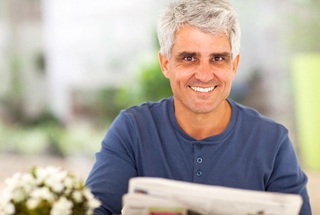 We have various denture options because they provide our patients with a wide range of benefits like:
Appearance: Dentures allow you to enjoy the appearance of a complete and beautiful smile that is ready to show off in any social or professional setting.
Confidence: If you've been hiding your smile in public or for photos, dentures give you a boost of confidence and self-esteem.
Lifestyle: Enjoy the ability to eat a wider range of foods as well as easier speaking to make your day-to-day life more comfortable and fun.
Convenience: Our dentures come in removeable and fixed options, giving you the solution that works best for your smile.
Health: If you choose implant-retained dentures, the dental implants stimulate your jawbone to prevent it from further deterioration after tooth loss.
Types of Dentures
We offer different types of dentures based on your pattern of tooth loss, including:
Partial Dentures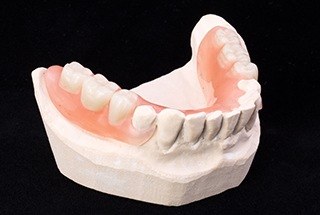 Partial dentures are tooth replacement prosthetics used to fill the gaps in your smile following the loss of multiple consecutive and nonconsecutive missing teeth. A gum colored base is molded to fit between remaining teeth. Then, the replacement teeth are attached to the base material seamlessly closing the gaps in your smile. The entire prosthetic is anchored to surrounding healthy teeth with clasps.
Full Dentures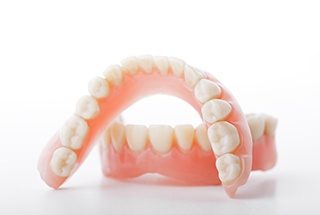 If you've lost one or both full rows of teeth, a full set of dentures can, quite literally, put the smile back on your face. Because there are no remaining teeth to offer support, full dentures need to be crafted to fit against the gums. When fitted correctly, the base of your denture will create suction with the gum line that holds the denture in place.
Implant-Supported Dentures
While traditional removable dentures replace the parts of your teeth that are visible above the gum line, they leave out the very important supportive tooth root structure. For added stability and longevity, dental implants can be used to replace the tooth roots and support your partial or full denture.
Cost of Dentures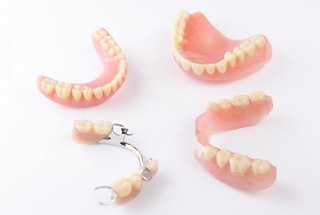 It's difficult to provide you with a precise cost estimate because of the many factors that can impact the price of your treatment. No two smiles are the same, which is why the best way to receive an estimate is to schedule a consultation with Dr. Hegazin. After examining your mouth, he will be able to choose the right denture for your smile, and your treatment plan will include your cost. In some cases, you may be able to get insurance coverage, but this will all depend on your plan. If you have any questions, please don't hesitate to contact our office.
Aftercare for Dentures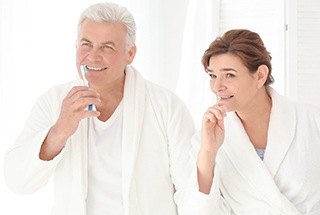 When you're getting used to a new denture, you may get frustrated, but by keeping the following tips in mind, you can make your transition to wearing dentures a little smoother:
Don't start out wearing your partial or full denture all day every day. Instead, wear the dentures for a few hours at a time to get used to them.
Try reciting tongue twisters and singing with your denture in place to get used to speaking clearly and build your confidence to communicate in any situation.
Test the limits of your denture when eating meals, but don't overdo it Start out with soft foods and gradually introduce more difficult to chew meals.
Take care of your denture as well as any healthy remaining teeth. Take your dentures out before you go to bed. Brush them carefully and store them overnight in a container of water or denture cleaning fluid. If you have remaining natural teeth, continue to brush and floss these. If you don't have remaining teeth, you can gently brush your gum tissue and/or use antimicrobial mouth rinse to prevent plaque buildup on your soft tissue.
Dentures FAQs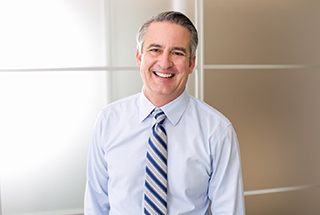 Thanks to advancements made in modern dental technology, today's dentures are nothing like the ill-fitting false teeth your grandparents wore. Nowadays, dentures in McKinney are designed to look and feel as close to your natural pearly whites as possible. However, there is still a lot of misinformation floating around about dentures. To clear things up and help you make a more well-informed decision regarding your oral health, we've answered a few frequently asked questions about dentures below.