Dental Implants Improve McKinney Smiles
Replace Missing Teeth Seamlessly
At Marble Dental Care, Dr. Hegazin strongly recommends that patients who have experienced the loss of one or more natural teeth explore the benefits of dental implants. Implants are uniquely transformative and beneficial because of their comprehensive structure – unlike more traditional restorations, they provide a new, stable tooth root that improves oral health and function. The final result is virtually indistinguishable from an original tooth in look and feel and can last for the rest of a patient's life. Please contact us today in McKinney, TX if you'd like to schedule a comprehensive consultation and learn more.
Implant Placement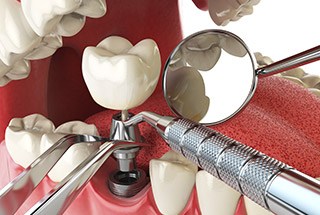 The first major step of receiving new, implant-retained teeth is the surgical insertion of the implants themselves into the jawbone. While many dentists have to refer their patients to separate specialists for this part of the procedure, Dr. Hegazin has the extensive experience and advanced training to perform this step personally.
Once the implants are in place, they will gradually bond with the surrounding oral tissue. After healing is complete, it will be time to return to our McKinney office so we can design and place custom-made restorations.
Implant-Retained Crowns & Bridges
Several options are available for restoring dental implants, and our recommendation will depend on a patient's specific needs and preferences. For instance, a single implant/tooth can be rebuilt with a custom-made dental crown, which will fit between natural teeth in a conservative and attractive fashion. Alternatively, an implant-retained bridge may be the best choice if multiple teeth in a row need to be replenished. Two implants can be placed on either side of the gap to steady the new bridge in place without harming the remaining natural teeth.
Implant-Retained Dentures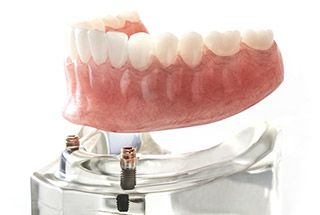 Dental implants can even be used to replace a large number of missing teeth at once! Our custom-made, implant-retained dentures in McKinney are designed to anchor over strategically placed implants – this method is also more cost-effective because we won't need to pair each missing tooth with a single implant. Patients can choose to have a removable denture for the convenience or have their prosthetic permanently fixed in place for the most lifelike result possible.