Dental Implants — McKinney, TX
Replace Missing Teeth Seamlessly
At Marble Dental McKinney, Dr. Hegazin strongly recommends that patients who have experienced the loss of one or more natural teeth explore the benefits of dental implants. Dental implants are uniquely transformative and beneficial because of their comprehensive structure – unlike more traditional restorations, they provide a new, stable tooth root that improves oral health and function. The final result is virtually indistinguishable from an original tooth in look and feel and can last for the rest of a patient's life. Please contact us today if you'd like to schedule a comprehensive consultation and learn more about dental implants in McKinney.
Why Choose Marble Dental McKinney for Dental Implants?
Advanced Technology for Precise, Lasting Results
Entire Procedure Done Under One Roof
Fair Prices with No Surprises
What Are Dental Implants?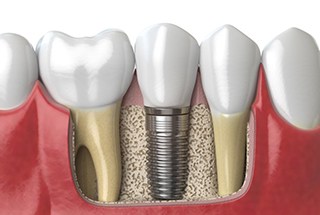 There are three parts to a dental implant: the implant post, the abutment, and the final restoration. The post is placed directly into the jaw to mimic the roots of the missing tooth. Then, the small connecting piece called the abutment secures your custom crown, bridge, partial, or denture in place. This unique placement gives dental implants unmatched functionality, longevity, and comfort, which is why they're widely regarded as the gold standard of tooth replacement. When you rebuild your smile from the roots up, your new pearly whites will look, feel, and function just like natural teeth.
The 4-Step Dental Implant Process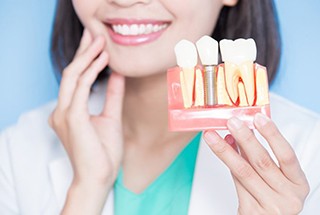 While traditional tooth replacement options like dentures and dental bridges need to be replaced after a few years of use, dental implants boast an astonishing success rate of over 95% even 10 years after they're placed! In fact, you can easily expect your dental implants to last a lifetime. This is largely thanks to their unique way of replacing missing teeth both above and below the gumline. At Marble Dental McKinney, we're proud to offer start-to-finish convenience since Dr. Hegazin can perform every step of the procedure right here in our office. Here's how dental implants work in McKinney and what you can expect.
Initial Dental Implant Consultation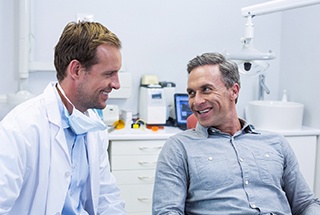 The success of your new smile relies on the right foundation. During your initial consultation, we'll take digital X-rays and use our state-of-the-art CBCT scanner to assess your oral health and map out your treatment. This information will tell us if you need to complete any preliminary treatments like periodontal therapy, bone grafting, or a sinus lift to ensure the success of your dental implants in McKinney. Once your oral health is on track and you're ready for your brand-new smile, we can schedule your dental implant surgery.
Dental Implant Surgery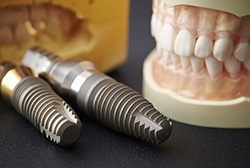 After you've healed from any previous treatments, you're ready to have your implant posts strategically placed into your jawbone. Dr. Hegazin is an implant dentist in McKinney who has undergone advanced training in implant dentistry to perform this step in-office. This saves time and money while you benefit from one trusted dental team from start to finish.
The surgery starts by administering local anesthesia before opening your gum tissue to expose your jawbone. Dr. Hegazin will carefully drill small holes into it and place the posts of the dental implants. Then, your gum tissue is closed, and protective healing caps are placed over the top of each implant.
Dental Implant Osseointegration/Abutment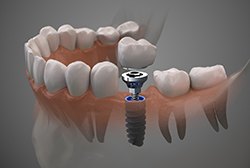 You will return home to recover and spend the next 3-6 months allowing a process called osseointegration to occur. The implant posts stimulate your jaw to encourage new bone growth. This allows your jaw to fuse to the posts over the next several months. After your jawbone is healed, you can undergo the final 2 stages of your treatment to place your abutments and your restorations. The metal abutments will serve as connectors between your customized restoration and dental implants.
Delivery of Dental Implant Restorations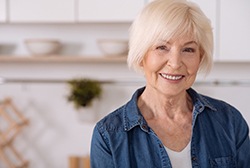 Once everything is fully healed and solidly in place, you will return to our dental office to receive your finalized restoration. Whether it is a dental crown, implant bridge, or implant denture, you can count on our team to deliver a trusted and functional prosthetic as well as a natural, beautiful design that will blend in with the rest of your smile.
Benefits of Dental Implants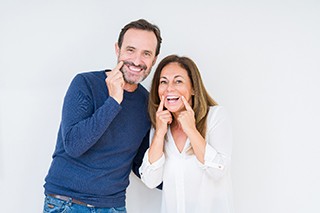 If you have lost one or more teeth, it's very likely that dental implants in McKinney will be Dr. Hegazin's first treatment recommendation. After all, this solution provides multiple advantages over traditional dentures and bridges in not just your day-to-day life, but your long-term oral and overall health as well. If you'd like to find out how dental implants can transform our life, request a consultation with our team today!
Day-to-Day Benefits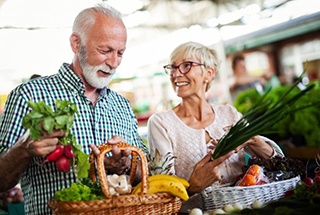 A recent survey suggests that about one-third of denture wearers feel limited by their prosthetics. Does that describe you, too? If so, dental implants might be the solution you've been looking for. They offer several lifestyle benefits, including the ability to:
Smile confidently – Your restorations (the crowns, bridges, or dentures that go on top of your implants) are practically indistinguishable from your original teeth. As a trained implant dentist in McKinney with plenty of experience in cosmetic dentistry, Dr. Hegazin will carefully craft your restoration to complement your natural oral anatomy and facial features. Once they're placed, others shouldn't even be able to tell that you have dental implants!
Eat most foods – Since dental implants recreate the roots of your teeth, they're sturdy enough to let you dig into virtually any food, no matter how chewy or crunchy, without worrying that they'll destabilize.
Talk with ease – Poorly fitting dentures often slip around, cause speech problems, or even fall out of the mouth when talking. Implant restorations are firmly anchored in your jaw, allowing you to speak clearly at all times.
Health Benefits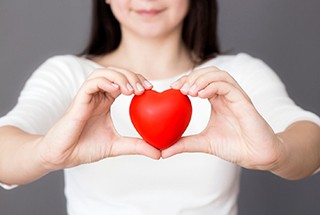 In addition to improving the quality of your everyday life, there are plenty more benefits of dental implants in McKinney. Here are just a few of the health advantages they provide:
Jawbone stimulation – After a tooth is lost, the section of the jawbone that the roots once supported begins to shrink. Eventually, the bone loss may become so severe that the jawbone weakens to the point that it increases your risk of gum disease, further tooth loss, and other oral health problems. Not to mention, it may cause a sunken, wrinkled facial appearance. Dental implants are the only tooth replacement option to recreate the tooth roots, stimulating the jawbone to keep it strong.
Preservation of natural teeth – To place a dental bridge, some enamel must be permanently removed from the remaining healthy teeth. This may lead to decay and sensitivity in those teeth. In contrast, dental implants are self-supporting, so none of your tooth structure needs to be removed.
Systemic health benefits – Tooth loss has been linked to multiple health problems, including heart disease and diabetes. Because dental implants are the next best thing to your natural teeth, they greatly reduce such risks.
Long-Term Benefits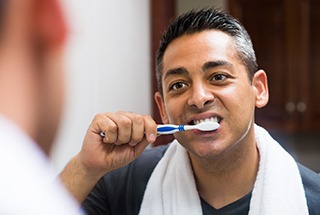 After dental implants are placed, they fuse to the surrounding bone and tissue, creating a bone that is sturdy enough to last a lifetime with the right care. In fact, implants have a success rate of 95%, even after 10+ years. Not only does this save you time in the dental chair that you would have otherwise spent on replacing a traditional solution, but dental implants are a wise financial investment in the long run.
Who Dental Implants Can Help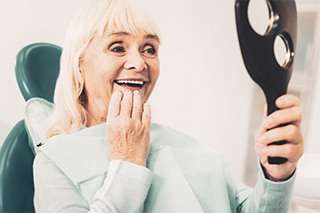 Dental implants are a great option for almost anyone, no matter how many teeth you're missing. You'll need to be in good oral health and have adequate jawbone density before we can begin your treatment. Several options are available for restoring dental implants, and our recommendation will depend on a patient's specific needs and preferences.
Who Is a Good Candidate for Dental Implants?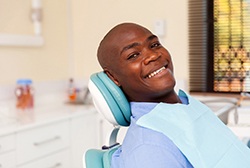 To determine which type of dental implant would be best for you, we'll first need to ensure that you're a good candidate. Typically, we'll look for these three key factors during your consultation:
Good overall health, so that you're well enough to undergo minor surgery to have your dental implants placed.
Great oral health, since issues like gum disease can threaten the success of your dental implants.
Adequate jawbone density, because your jawbone needs to be strong enough to support your new dental implants.
Many patients need to complete preliminary treatments beforehand to get ready for their new, implant-supported smile. If necessary, we'll help you schedule preparatory procedures like gum disease therapy or a bone graft to help you become a great candidate for dental implants. Then, we'll create your treatment plan, including how many dental implants you'll need and what type of restoration they'll support.
Missing 1 Tooth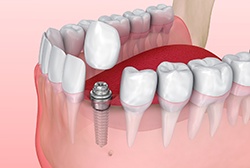 Missing even just one tooth can have a significant impact on your daily life and health. Thankfully, a single gap in your smile can be easily filled with a dental implant and custom-made dental crown. We'll place the implant under the gums where the roots of your missing tooth once were, and then we'll cover it with a beautiful, carefully-designed dental crown. Not only will the results be beautiful and virtually indistinguishable from the surrounding natural teeth, but this is a far better option than placing a traditional bridge, which requires shaving down the neighboring healthy teeth.
Missing Multiple Teeth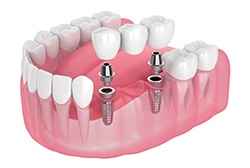 Dental implants can also help you if you're missing several consecutive teeth. Two dental implants can be placed on either side of the empty space, supporting the new replacement teeth firmly between them.
If there are multiple missing teeth throughout the mouth, we can place several dental implants to secure a partial denture in place. Either option will replace your missing teeth with restorations that are incredibly durable and natural-looking, plus they won't wear down your healthy teeth or irritate your gums.
Missing All Teeth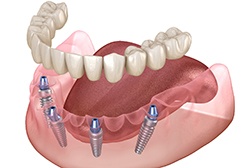 Dental implants can even be used to replace an entire arch of missing teeth at once! Our custom-made implant dentures in McKinney are designed to anchor over strategically placed implants – this method is also more cost-effective because we won't need to pair each missing tooth with a single implant. Patients can choose to have a removable denture for the convenience or have their prosthetic permanently fixed in place for the most lifelike result possible.
However, did you know that a full denture can be supported by as few as four implants? This unique placement is aptly called All-On-4. The four dental implants are strategically placed in the naturally thickest parts of the jaw, making them an excellent choice for patients with low jawbone density. Plus, it cuts down on the usual waiting period that regular dental implants come with. Thanks to All-on-4, you can receive an entire arch of new teeth in just one appointment!
Learn More About Implant Dentures
Understanding the Cost of Dental Implants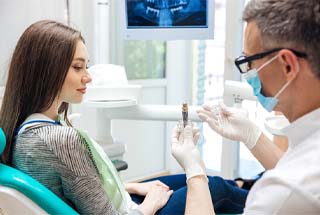 Naturally, the cost of dental implants in McKinney is a huge factor when it comes to a patient's decision to move forward with treatment. Because there are so many variables at play, though, it's essentially impossible for us to provide you with an estimate until Dr. Hegazin has evaluated your specific treatment needs. From there, our team can help you navigate your options for making your new smile affordable. Below, you'll find some of the factors we must consider when determining how much dental implants cost.
Preliminary Treatments & Dental Implant Surgery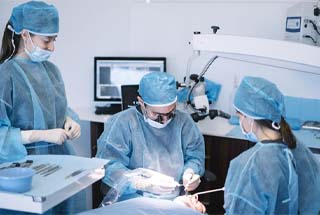 Do you currently have gum disease that may ultimately cause dental implant failure? Are the damaged teeth that need to be replaced still in your mouth? Has your jawbone lost too much density to support dental implants? If the answer to any of these questions is "yes," then you'll need one or more preparatory procedures before dental implants can be placed. Of course, each of these treatments will increase your overall costs.
Dental implant surgery, as well as any anesthesia used, also incurs its own cost. On the bright side, Dr. Hegazin is a trained implant dentist in McKinney who can perform this procedure in-house. This makes the payment process easier since you won't be responsible for an additional bill to an outside specialist.
The Parts of Your Dental Implant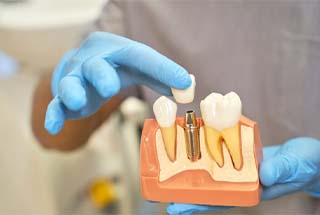 Aside from the number of dental implants you need, each of the three parts of a dental implant impact the total price:
Implant post – These can be made from various materials and come from different manufacturers and brands, all of which come at their own price points.
Abutment – The connector pieces can also be supplied by various brands.
Restoration – Depending on the number of teeth you've lost, you may need a dental crown, bridge, or denture to complete your smile. Generally, larger restorations cost more than small ones.
During your consultation, our team will be transparent as to how each of these factors affect the amount of money that you'll be responsible for.
Why Dental Implants Are Worth Every Penny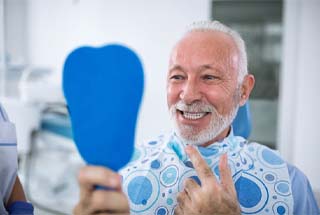 It may not seem like dental implants in McKinney can save you money in the long run, but it's true! While they cost more at first, they can potentially last a lifetime. Regular dentures and bridges, on the other hand, must be replaced every five to ten years at most, compounding their initial lower price. With dental implants, you should only have to pay an upfront cost for a solution that should last for decades to come.
Dental implants also provide numerous quality-of-life benefits that traditional solutions do not. For example, they're just as easy to clean as natural teeth, and they let you eat, speak, and smile with confidence. They also encourage better oral health, which lowers your risk of needing expensive dental treatments.
Does My Dental Insurance Cover Dental Implants?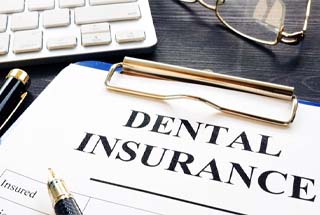 Most dental insurance plans do NOT cover dental implants, but that depends on the specifics of your policy. Some parts of your treatment may be partially covered, though, such as:
Anesthesia used during the surgery
Your final restoration
Initial consultation
At Marble Dental McKinney, we're in-network with a variety of dental insurance providers and can also file claims for out-of-network plans. Rest assured we'll do our utmost to make your new teeth affordable!
Making Dental Implants Affordable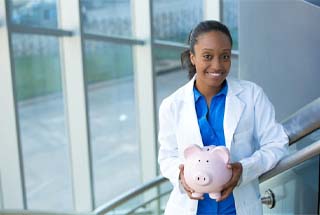 For patients without insurance, we offer additional financing options, including:
CareCredit – Qualified patients can break up their costs into smaller monthly installments. Many plans come at extremely low or no interest rates.
In-house discount plan – Instead of traditional insurance, you can sign up for our in-house savings plan to get your basic preventive care covered and receive discounts on many other services.
Advanced Dental Implant Procedures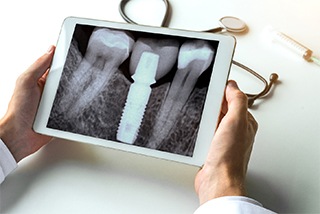 While dental implants are ideal for many patients, it's possible that for some, additional treatments are needed before dental implants can be considered viable. The good news is Marble Dental McKinney offers multiple advanced dental implant procedures designed to make your next implant placement viable. Whether you need a bone graft or a sinus lift, we'll do everything we can to ensure that your next tooth replacement has the highest chances of success.
Bone Grafting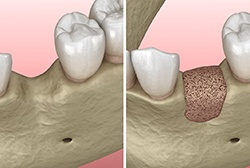 A bone graft is a surgical procedure specifically intended to replace missing bone in the body. While bone grafts can be used anywhere, they are especially common in parts of the jaw when placing dental implants. It entails the donation of either existing bone tissue in your body or bone from somewhere else. Once the bone is placed onto the bone tissue, it is given several months of time to heal. The end result is a bone that is large enough to hold a dental implant confidently and for the long-term.
During a bone graft, a new, small piece of bone is injected into the place the bone needs to heal. The cells inside this bone begin to seal themselves with this new bone. Over the next several months, the bone tissue will grow, increase in volume, and become large enough to eventually join with a future dental implant.
Sinus Lifts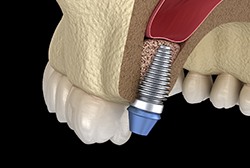 In certain parts of the mouth, a dental implant can become tricky because the material the implant needs to integrate with is particularly thin. With a sinus lift, we can add bone to your upper jaw and near where your molars and premolars are located. If you need to replace a teeth in this region and there is not enough bone material to do so, a sinus lift will make treatment viable. Also known as sinus augmentations, this treatment is ideal for those who have had missing teeth for a long time or who previously suffered from periodontal disease, which can destroy bone.
In the case of a sinus lift, we may be able to take bone from other parts of your body (such as the hip or tibia.) Regardless of where the bone is sourced, we will start by cutting the gum tissue, lift it up to expose the bone, and pack granules of bone into the space where the sinus previously was. Afterwards, it's closed with stitches and four to nine months later, your implants can be placed.
Ridge Expansion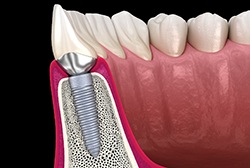 In some cases, a patient's jaw may not be wide enough to accommodate dental implants. This is when a ridge expansion will be recommended. For this procedure, the bone ridge underneath the gums is divided into inner and outer sections. Space is then created between these segments and filled with grafting material. Over time, this will create a thicker, wider, and more suitable foundation for your dental implants. In some cases, dental implants can be placed at the same time as a ridge expansion to save you time.
Dental Implant Technology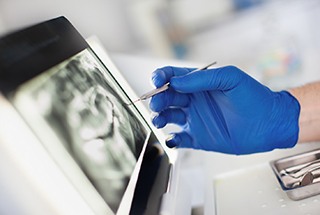 At Marble Dental McKinney, we have always been dedicated to delivering truly optimal dental care in terms of safety, comfort, and efficiency. That's why we've outfitted our dental office with state-of-the-art equipment that ensures you receive precise treatments that are designed for your unique smile. When it comes to advanced services like dental implants, we use nothing short of the best technology available to ensure the results are perfectly placed for long-term success. To learn more about our dental implant technology, keep reading or give us a call to schedule your consultation at our McKinney dental office.
3D Cone Beam Imaging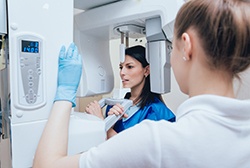 When it comes to getting the most detailed and accurate image of your mouth, a digital X-ray alone simply won't do. Instead, we'll use an advanced type of digital X-ray technology called the 3D CT Cone Beam Scanner. This machine spins 360 degrees around a patient's head, taking hundreds of images in the process. These images are combined to create a 3D model of your oral cavity, including important details that X-rays don't pick up like the dentition, the sinuses, the nerves in your face, and more. This detailed 3D model lets us precisely plan where your dental implants should be placed for their highest chances of success and allows us to plan around any potential complications or unnecessary surprises.
Guided Dental Implant Surgery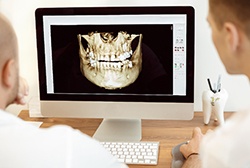 Our specialized computer software can take the data collected from the 3D CT Cone Beam Scanner and create a virtual model that we can use to digitally perform your dental implant placement. Once the optimal areas and angles for your implants have been determined, we can create a surgical guide from the virtual results. The guide will be printed with a 3D printer and placed in your mouth to ensure that your implants are placed as precisely as intended. Guided dental implant surgery offers the best possible results for placing dental implants in the best locations in your jawbone.
E4D Digital Impression System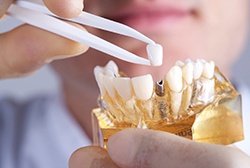 Once your dental implant has healed into place, we'll cover it with a custom-made restoration to complete your smile. This can either be a crown, bridge, or denture depending on how many teeth you're replacing. To ensure that your new tooth or teeth look completely natural and blend in seamlessly with the rest of your pearly whites, we'll use our E4D digital impression system. Instead of using traditional putty that can be uncomfortable and messy, these digital impressions are quicker, easier, and more precise. After scanning your mouth, we'll be able to create a custom restoration that looks just like a natural tooth.
3Shape TRIOS® Intraoral Scanner
This small handheld device enables our team to create extremely accurate digital scans of the mouth that we can use to plot out dental implant surgery. The details of these scans far exceed your typical X-ray, enabling our team to personalize the procedure to an unprecedented level. With it, every step of your dental implant journey can be customized to your unique situation. This not only ensures a better result, but a greater chance of success as well.
Form 3B+ 3D Printer
Working in tandem with our CBCT scanner, the Form 3B+ is the 3D printer we use to create our surgical guides for dental implant placement. The guides allow for maximum accuracy and efficiency on the day of your procedure, which saves you time in the chair while also ensuring a relatively fast and easy recovery process. The Form 3B+ integrates seamlessly into our digital workflow and gives our team control over every little detail when planning dental implant procedures, allowing our team to personalize and refine the process to an unprecedented level.
Dental Implant Failure & Salvage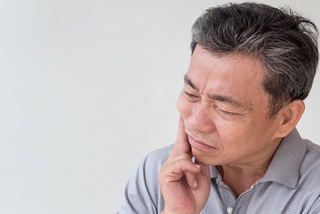 If you're looking for the most reliable and longest-lasting tooth replacement option, there's simply no better choice than dental implants. With over a 95% success rate, dental implants are designed to last decades while traditional tooth replacement options need to be replaced every five to seven years. In fact, dental implants have the potential to last a lifetime! However, there is still the remote possibility or dental implant failure, especially if you don't take the precautions. Fortunately, should your implant begin to fail, we may be able to save your smile with a dental implant salvage treatment. Read on to learn more about how to prevent dental implant failure, what to look out for, and how we can help.
Learn More About Dental Implant Failure & Salvage
Dental Implant Post-Op Instructions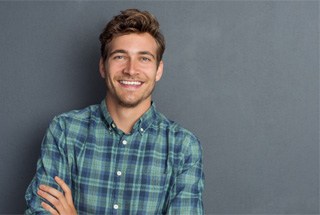 After your dental implant surgery, you will have to go through a recovery period. That might sound a little intimidating, but it's nothing to worry about. As long as you carefully follow your dental implant post-op instructions in McKinney, it is likely that your recovery process will be smooth and free of complications.
What to Do Directly After Dental Implant Surgery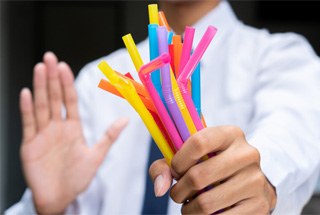 Blood clots should form at your surgical sites. They are a key part of your body's healing process, so you should do all you can to protect them. Here are some tips to that end:
Do not spit. Swallow excess saliva or use tissues to absorb it.
Do not smoke or use drinking straws. The suction could dislodge your blood clots.
Do not touch your surgical sites. Keeping your tongue and fingers away from your incisions can reduce the risk that you will accidentally disturb your blood clots.
Common Side Effects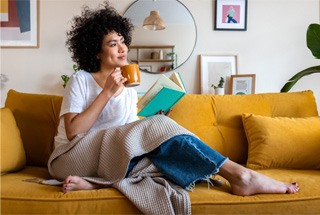 After your dental implants in McKinney are placed, you might experience:
Intermittent bleeding. Gauze, combined with light pressure, can help to keep this under control.
Swelling.This may continue for 72 hours or so and linger for up to a week. Cold compresses can minimize it.
Pain. Be sure to take pain medication as directed. It would also be wise to get plenty of rest.
If you experience any severe or unusual side effects, schedule an appointment with your implant dentist in McKinney as soon as possible.
Diet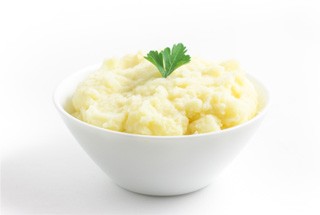 At first, it would be wise to stick to a no-chew diet, which can include things like brothy soups, smoothies, meal replacement shakes, mashed potatoes, and yogurt. After you have recovered to a degree, you can move on to fork-tender foods, such as scrambled eggs, meatloaf, and any bread without a hard crust. Eventually, you can resume your normal eating habits, though you should be careful around your implant sites until your new teeth are in place.
Health & Oral Hygiene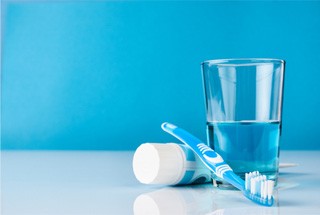 It is okay to brush your teeth starting the day after your surgery, but you should be extra-cautious around your surgical sites. Rinsing your mouth a few times each day with salt water can help to control swelling and inflammation. If you have a prescription mouthwash, be sure to use it as directed. Nonprescription mouthwashes with a high alcohol content should be avoided.
What to Do After Your New Teeth Are Attached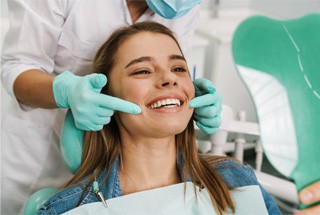 After our team attaches your restorations to your implants, you will not need to worry about a lengthy recovery period. Although you might experience a little tenderness in your gums, you should be able to start cautiously using your new teeth right away. We hope you enjoy your restored smile!
Maintaining & Caring for Your Dental Implants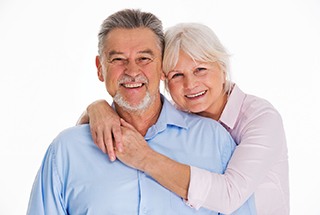 Thanks to dental implants, your newly rebuilt smile can last for a lifetime. However, it's up to you to take care of them so you can get the most out of your replacement. Without proper maintenance, injury, damage, or infection can lead to implant failure or even necessary replacement. That's why Dr. Hegazin has included some simple steps you can take for dental implant care in McKinney below.
Make Oral Hygiene a Priority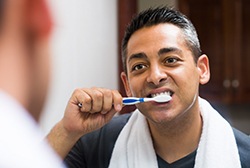 While your dental implants themselves can't be affected by issues like cavities and infection, a good at-home oral healthcare routine is vital. Common problems like gum disease caused by plaque buildup can lead to dental implant failure. However, brushing twice a day and flossing once a day is the best way to prevent oral health problems. Remember to brush for two minutes each session, paying close attention to your gumline so you can clean away bacteria that may cause infection.
Eat a Healthy Diet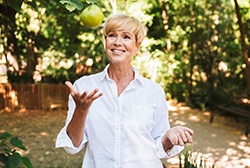 Thanks to dental implants in McKinney, you can eat whatever you want, allowing you to enjoy a delicious and nutritious diet. But you should avoid overindulging in extra sticky, hard, or sugary foods. These items can cause issues like infection or decay, and hard foods may even damage your implants. Instead, try to eat foods with calcium and vitamin C – these ingredients keep your gums and jawbone healthy and strong.
Break Bad Habits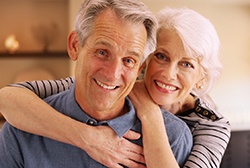 While dental implants have a success rate of 95% even after 10 years, there is a chance that they can fail. The use of tobacco products and smoking will slow down healing and encourage infection. Additionally, bad habits like chewing on non-food items or ice cubes can cause injury and implant failure. You should also avoid using your teeth for anything other than eating, speaking, and smiling – do not use your smile to open packages or bottles because it could seriously damage your implants.
Protect Your Dental Implants
Dental implants are designed to last for decades with proper care, making them the most durable tooth replacement. However, they must be protected during sports and physical activity. Be sure to wear a mouthguard even in sports that you may not think of as overly physical (examples: baseball, basketball, or even trail hiking). Additionally, if you suffer from teeth grinding, wear a nightguard to protect your implants from unnecessary pressure and wear.
Schedule Regular Dental Checkups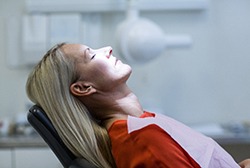 Last but certainly not least, don't forget to visit our office for regular dental checkups with our implant dentist in McKinney. Dr. Hegazin will carefully examine your mouth to ensure that everything looks good. These visits allow him to catch any issues while they're still small, preventing you from more extensive and expensive dental care in the future. This is also a great time to ask questions you may have about your implants or overall oral health.
Dental Implant FAQs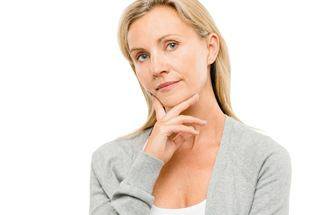 Chances are you've heard or read about the placement of dental implants in McKinney, as it's been gaining in popularity over the past few years. Still, you have more questions about the procedure that need to be ironed out before you can move forward with receiving the restorative care you need. Here are the answers to the top 5 questions patients have about the dental implant process.
Is Dental Implant Surgery Painful?
The dental world is constantly evolving, which means there are several benefits you stand to gain by receiving care in the 21st century. One area where major strides have been made is comfort. As it applies to the dental implant procedure, it means you should expect a pain-free experience while the implant is being placed.
However, you can expect to have some slight but manageable discomfort that subsides over the first 10 days after the initial procedure is completed. Usually, over-the-counter pain relievers like ibuprofen or Tylenol will suffice, but if needed, Dr. Hegazin will prescribe medication to ensure you're not in excruciating pain while you recover.
Are Dental Implants Just for Older Patients?
The reality about tooth loss is that it doesn't discriminate based on age. Because advanced decay, a tooth extraction or sudden trauma can result in tooth loss, there is one aim of the dental implant process: to replace the missing teeth of adult patients of any age.
Therefore, if you're tired of having to make adjustments so you can chew your food, then it's time to turn the situation around by visiting our McKinney office to have dental implants placed!
How Much Do Dental Implants Cost?
The dental implant procedure is highly customized to meet each patients' specific needs. When you visit for a consultation with Dr. Hegazin, your mouth, gums and any remaining teeth will be thoroughly examined. Additionally, X-ray photos will be taken so we can determine how much healthy bone mass you have available.
These variables, along with the number of teeth you have missing, will factor into the price of your procedure. So to receive an accurate estimate, contact one of our friendly team members to schedule a visit today.
Will I Have a Natural-Looking Smile?
When it comes to smile aesthetics, no other form of tooth replacement can compare with the dental implant procedure. That's because the implant, which is a titanium, cylinder-shaped post, is surgically inserted into the jawbone to mimic the natural function of your missing tooth's roots.
Because of the secure placement of the dental implant, once the prosthetic tooth is added, the result is a smile that looks like you were born with it!
How Long Will My Dental Implants Last?
Having dental implants placed is a sound investment for several reasons, but one in particular is the fact that, if cared for properly, the fixture can last up to 25 years to a lifetime. As further evidence of the longevity of dental implants, statistics show that the 10-year success rate is 95-98%. That means that with the placement of dental implants, you have a bright future ahead of you!