Oral Conscious Sedation Dentistry - McKinney, TX
Comfortable and Relaxed with One Small Pill
Are you fearful of the dentist's office? Do you hate the idea of needles? Are you preparing for a complex treatment that will require you to sit still for a longer than a traditional dental checkup and cleaning? If you answered "yes" to any of these questions, you may be eligible to receive oral conscious sedation during your next visit. At Marble Dental McKinney, Dr. Hegazin is a sedation dentist in McKinney who can provide you with a small pill that will help you feel completely relaxed and comfortable during your visit. Forget the sights, sounds, and smells that leave you feeling anxious and fearful. With oral conscious sedation dentistry in McKinney, you can fully be at ease while receiving the care you need.
What Is Oral Conscious Sedation Dentistry?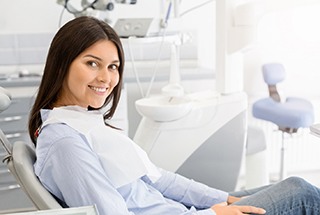 Using a prescribed medication designed to help patients relax, your dentist in McKinney can offer oral conscious sedation to make your upcoming appointment less stressful and more enjoyable. This type of sedation does not "knock you out," but instead, it allows you to enter into a deep state of relaxation. In fact, you may have difficulty remembering what exactly occurred during your visit.
Because it does require taking a prescribed pill, the effects take time to wear off, so it's important that you have someone escort you to and from your appointment.
How Oral Conscious Sedation Works
When discussing the types of sedation offered in our office, Dr. Hegazin will go over all the necessary information regarding oral conscious sedation. Before your appointment, you will be instructed to take the prescribed medication provided by our team. As a sedative that works quickly, you will need someone to bring you to our office.
When you arrive, we will perform a check of your heart rate and blood pressure just to ensure there are no problems or concerns as it pertains to the medication. Throughout your procedure, our team will continually monitor your vitals to make sure you are safe and comfortable.
Once Dr. Hegazin believes you are thoroughly relaxed, he will begin the dental procedure. Because this form of sedation does not cause you to truly fall asleep, you will be cognizant enough to respond to cues by our dental team.
As soon as he is finished with treatment, you will need an individual to take you home and allow you to rest until the effects wear off.
Why Choose Oral Conscious Sedation?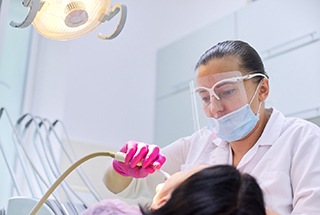 Not only is it safe and effective, but for individuals who are afraid of needles and require more than what nitrous oxide can provide, oral conscious sedation is a great alternative. For some people, their anxiety stems from a fear of needles and being poked and prodded, so IV sedation is not a viable option. For others, nitrous oxide is not enough to fully eliminate the anxiety and fear that can come with even a regular dentist's appointment.
By evaluating your anxiety level and talking to our team about your concerns, we can identify the right solution that will not only help you to stay calm and comfortable during your visits but also provide you with the treatment you need to keep your smile looking and feeling its best.