Nitrous Oxide Sedation Dentistry – McKinney, TX
Helping You Feel Safe & Comfortable Visiting the Dentist
Are you scared of visiting your dentist for necessary treatments or semi-annual dental checkups and teeth cleanings? Having anxiety or worry around visiting a dental office is more common than you may think. Unfortunately, this causes many patients to develop oral health problems that can become more severe the longer they go untreated. That's why, at Marble Dental McKinney, we offer nitrous oxide sedation dentistry in McKinney so our patients can feel more relaxed while they're in the treatment chair.
Why Are People Scared of the Dentist?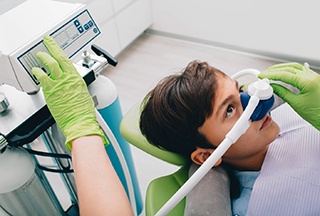 It's estimated that nearly 75 percent of adults in the nation have some degree of worry, fear, or anxiety surrounding vising their dentist. These feelings can develop for a variety of reasons, including:
Bad experiences visiting the dentist in the past.
A fear of receiving bad news about your oral health.
Discomfort surrounding having metal instruments in your mouth.
A lack of control in the environment.
Dislike for the smells and sounds in dental offices.
No matter why you're afraid, your feelings are completely valid. Our goal as professionals is to make sure that you feel comfortable and calm, making sure to not further traumatize you in order for you to look after your oral health.
Who Is a Good Candidate for Nitrous Oxide Sedation?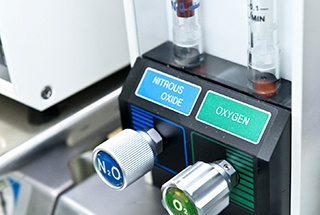 Nitrous oxide sedation is a great option for patients of all ages and backgrounds. Whether you have fear surrounding the dentist or you have a difficult time sitting still while receiving treatment, this versatile sedation solution can help. Patients who are experiencing some of the following can benefit from nitrous oxide sedation:
Have a fear of needles
Have difficulty controlling their movements
Suffer from tooth sensitivity
Have a strong and sensitive gag reflex
Have difficulty getting numb
Are on the autism spectrum
Have physical disabilities that make receiving dental care uncomfortable
How Does Nitrous Oxide Sedation Dentistry Work?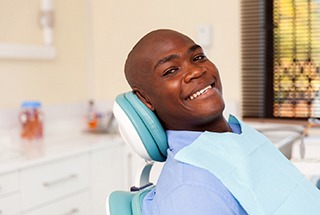 Before your procedure, we will place a small nose mask on you and turn on the nitrous oxide. Within minutes of breathing it in, you'll begin to feel a calm, euphoric wave wash over you. Some patients also report tingling or light-headedness as well.
As soon as the full effects have begun to take place, we'll begin your treatment. When your procedure is complete, we'll remove the mask. You'll notice the side-effects beginning to wear off nearly immediately. This usually takes place over the course of about five to 10 minutes. Once you feel clearer, you'll be able to continue on with your day like you normally would.
If you have any questions or concerns about the nitrous oxide sedation process, don't hesitate to ask our friendly staff. We'd be more than happy to speak with you over the phone and walk you through the process.