All-On-4 Dental Implants – McKinney, TX
An Incredibly Stable Denture That Lasts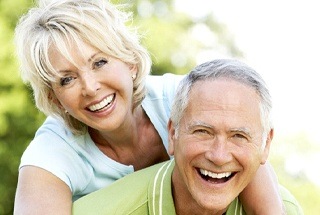 If you're missing most or all of your pearly whites on a single arch, you might think you need a dental implant to replace each and every tooth. Thanks to the innovative All-on-4 system, that's no longer the case. With this technology, we can strategically place as few as four dental implants throughout your jawbone to secure an entire denture. If you're suffering through total or near-total tooth loss, call Marble Dental Care today. In many cases, we can fully restore your smile and biting force without the need for a bone graft!
How Do All-On-4 Implants Work?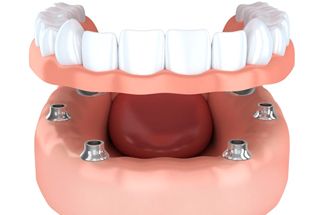 As the name implies, All-on-4 can support a full denture in four or more dental implants in McKinney. The implants are inserted in strategic places throughout the jawbone, where the bone is naturally strongest and thickest. More often than not, right after your implants are placed, we are able to attach a temporary denture so that you don't have to go one more day without teeth. We'll give the implants a period of a few months to fully fuse with your jawbone. After that, we can place your permanent denture, and your smile and biting power are restored!
Am I A Candidate for All-On-4 Implants?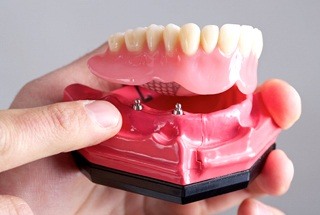 All-on-4 dental implants may be right for you if you:
Have lost most or all of your teeth on at least one arch.
Have enough healthy jawbone left to support dental implants. Because of the strategic placement of the implants, you might still be a candidate for All-on-4 even if you don't have enough jawbone for individual dental implants.
Do not have gum disease or any other health issue that could compromise the success of the healing process.
Do not smoke or chew tobacco.
Are tired of the awkwardness of traditional dentures and want a more stable alternative already.
What Are the Benefits of All-On-4 Implants?
The main advantage of All-on-4 dental implants is that they can deliver to you a full, brand-new set of teeth in just one appointment with your dentist in McKinney. With dental implants alone, you often have to wait months between the placement itself and receiving your restoration.
Other benefits of All-on-4 implants include:
Implants prevent bone loss in your jaw and feel completely natural.
The dentures are sturdier than their traditional counterparts, meaning they won't slip around at inopportune times.
Your biting power will be restored to what it was before your tooth loss.
With proper care, your dental implants in McKinney can last for decades, possibly even the rest of your life.
All-On-4 VS Traditional Dental Implants
While All-on-4 might sound like a dream come true, it's not the right treatment for everyone. Your dentist in McKinney may suggest traditional dental implants if you have healthy teeth remaining in your arch. That way they won't have to be unnecessarily extracted.
However, one main advantage is that, with All-on-4, many patients are not required to first undergo a bone graft like they would for individual dental implants. Another benefit is that your restoration can be placed immediately following implant placement without waiting for months for the posts to fully integrate with the jawbone.