All-On-4 Dental Implants – McKinney, TX
An Incredibly Stable Denture That Lasts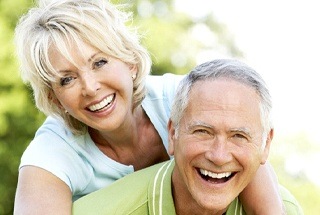 If you're missing most or all of your pearly whites on a single arch, you might think you need a dental implant to replace each and every tooth. Thanks to the innovative All-on-4 system, that's no longer the case. With this technology, we can strategically place as few as four dental implants throughout your jawbone to secure an entire denture. If you're suffering through total or near-total tooth loss, call Marble Dental Care today. In many cases, we can fully restore your smile and biting force without the need for a bone graft!
How Do All-On-4 Implants Work?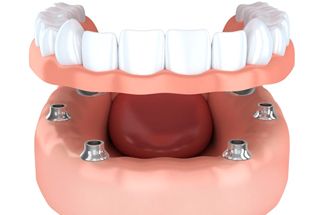 As the name implies, All-on-4 can support a full denture in four or more dental implants in McKinney. The implants are inserted in strategic places throughout the jawbone, where the bone is naturally strongest and thickest. More often than not, right after your implants are placed, we are able to attach a temporary denture so that you don't have to go one more day without teeth. We'll give the implants a period of a few months to fully fuse with your jawbone. After that, we can place your permanent denture, and your smile and biting power are restored!
Am I A Candidate for All-On-4 Implants?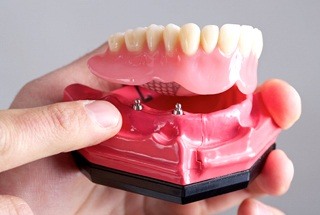 All-on-4 dental implants may be right for you if you:
Have lost most or all of your teeth on at least one arch.
Have enough healthy jawbone left to support dental implants. Because of the strategic placement of the implants, you might still be a candidate for All-on-4 even if you don't have enough jawbone for individual dental implants.
Do not have gum disease or any other health issue that could compromise the success of the healing process.
Do not smoke or chew tobacco.
Are tired of the awkwardness of traditional dentures and want a more stable alternative already.
What Are the Benefits of All-On-4 Implants?
The main advantage of All-on-4 dental implants is that they can deliver to you a full, brand-new set of teeth in just one appointment with your dentist in McKinney. With dental implants alone, you often have to wait months between the placement itself and receiving your restoration.
Other benefits of All-on-4 implants include:
Implants prevent bone loss in your jaw and feel completely natural.
The dentures are sturdier than their traditional counterparts, meaning they won't slip around at inopportune times.
Your biting power will be restored to what it was before your tooth loss.
With proper care, your dental implants in McKinney can last for decades, possibly even the rest of your life.
All-On-4 VS Traditional Dental Implants
While All-on-4 might sound like a dream come true, it's not the right treatment for everyone. Your dentist in McKinney may suggest traditional dental implants if you have healthy teeth remaining in your arch. That way they won't have to be unnecessarily extracted.
However, one main advantage is that, with All-on-4, many patients are not required to first undergo a bone graft like they would for individual dental implants. Another benefit is that your restoration can be placed immediately following implant placement without waiting for months for the posts to fully integrate with the jawbone.
All-on-4 FAQs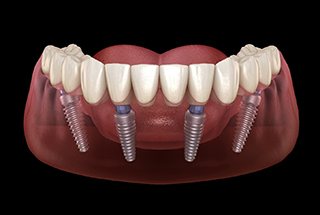 All-on-4 can be a wonderful solution for tooth loss, but if you don't fully understand the treatment and what to expect from it, you might be hesitant about moving forward with it. To give you the peace of mind that comes from feeling well-informed about your treatment, we've answered some of the most common questions we've heard about the All-on-4 process over the years. Reach out to us today if you have any concerns that aren't addressed on this page.
Does All-on-4 Look Natural?
Like all dental implant treatments, All-on-4 is performed with your unique appearance in mind. The process begins with careful consideration of the current state of your mouth as well as your age, skin tone, facial features, and other factors. This allows us to fabricate prosthetic teeth that are the right size, shape, color, and proportion to pass as a natural part of your mouth. We'll always check to make sure you're satisfied with the appearance of your new teeth before moving forward with the process. You might even find that your new smile looks even more dazzling than your old one while still blending right in.
Will the All-on-4 Process Hurt?
All-on-4 is a surgical procedure, and like any kind of surgery, we'll need to take steps to make sure you feel comfortable during the treatment. Your mouth will be numbed, and you may be sedated if deemed necessary. The soreness and swelling that you experience after the surgery will last for a few days. It usually only takes a couple of days for patients to return to their normal daily routines after receiving implants. Once you've recovered from the pain, you'll simply need to adjust to the way your new teeth feel whenever you bite, speak or chew.
What Should I Eat After the Surgery?
Since All-on-4 often lets you receive new teeth right away, you won't have to wait as long to enjoy a full diet again. After a few days of recovery, most patients find that they're safely able to eat most of their favorite foods thanks to the stability of their implants. That does not mean, however, that your mouth is fully done recovering. For the most part, you should stay away from overly hard, chewy or brittle foods for at least a couple of months. This gives the implants time to fully join with the jawbone and the rest of your mouth a chance to heal.
How Much Will All-on-4 Cost?
There is no "fixed" cost for implant procedures, and All-on-4 is no exception. You'll receive a personalized estimate during your first consultation, which is when we'll figure out your various dental needs and how they'll need to be addressed. We can also talk to you about using dental insurance to pay for certain aspects of the treatment, and we can help you apply for a CareCredit financing plan to break up the cost of your care into easier-to-handle installments.