Cosmetic Dentist - McKinney, TX
Transform Your Smile's Shine
Are you interested in achieving a brighter and more confident appearance? Cosmetic dentistry requires plenty of experience, time-tested skill, and a true sense of aesthetics – that's why trusting your smile in the capable hands of Dr. Hegazin is always a good choice. He will help you determine the ideal combination of cosmetic services that will result in your desired improvements, taking the time to ensure that your oral function and health are prioritized as well. If you would like to schedule a consultation for cosmetic dentistry in McKinney, contact Marble Dental McKinney today. Our team looks forward to hearing from you!
Veneers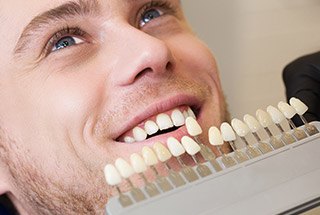 Dental veneers are high-quality, ultra-thin restorations that are designed to cover just the front surfaces of visible teeth. This is a very effective and highly requested cosmetic dentistry procedure because it can transform a patient's smile comprehensively instead of addressing one imperfection at a time, saving significant time and cost. The porcelain structure is also resistant against gradual staining (even more so than your natural tooth enamel), which means the improvements will last many years at a time
Lumineers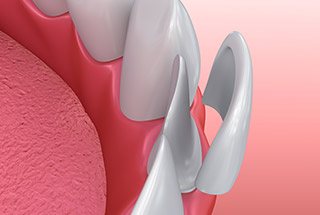 While traditional dental veneers have many valuable benefits for patients looking to undergo a full smile makeover, they do require a small amount of natural enamel to be removed to accommodate them. Lumineers are even thinner in nature – only around the width of a single contact lens – which allows our team to place them successfully without significantly altering the teeth. This means that patients can later return to their natural smile if they choose to do so. Dr. Hegazin will be happy to help you determine whether traditional veneers or Lumineers are the right choice for your specific preferences and circumstances during a consultation.
Metal Free Dental Restorations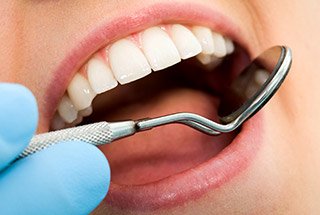 When you're in need of restorative dental care to rebuild a damaged, decayed, or incomplete tooth, our McKinney team will help you maintain your naturally confident appearance with high-quality, metal-free materials. These materials are 100% biocompatible, highly durable, and an exceptionally close match for tooth enamel – they even reflect light in the same way! They're also very comfortable within the mouth and should last for over a decade with the proper maintenance.
Direct Bonding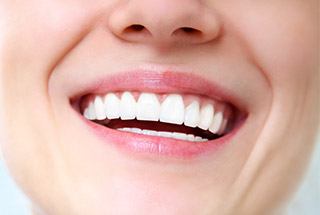 If you have experienced a minor cosmetic imperfection, such as a chip in the tooth enamel or a stubborn dark spot, direct bonding is a fast and simple way to correct the damage beautifully. Dr. Hegazin will apply lifelike composite resin to the tooth in question, carefully sculpting it in place so that it appears completely natural while also hiding any defect from view. In most cases, patients will only need to commit to one appointment when undergoing direct bonding, which helps them save valuable time as well.
Learn More About Direct Bonding
Teeth Whitening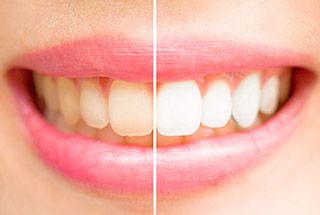 If you are unhappy with the current glow of your smile, professional teeth whitening can give your enamel a new boost of vitality. At Marble Dental McKinney, we offer both in-office treatment and take-home kits. In-office treatment may be ideal for patients who want results fast – we can lighten the shade of your teeth significantly over the course of just one appointment. Alternatively, take-home kits can be used in the comfort of your own home and whenever your personal schedule allows for optimal flexibility.
Learn More About Teeth Whitening
Crown Lengthening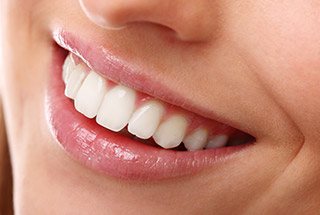 Crown lengthening may be recommended if a patient's gum tissue is overly abundant in a specific area of the mouth, unnecessarily hiding their teeth from view. This can result in an overly short or "stubby" appearance for the smile, which may harm its cosmetic value. Any excessive tissue can be carefully and comfortably removed with specialized instruments, and our team will be sure to maintain symmetry throughout the smile for optimal improvements.
Crown lengthening can also have important restorative benefits – for instance, Dr. Hegazin may need to remove tissue in order to successfully place a new dental crown over a damaged or incomplete tooth.
Learn More About Crown Lengthening
Understanding the Cost of Cosmetic Dentistry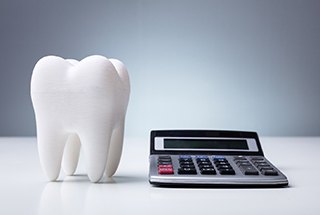 Many people are hesitant to pursue cosmetic dentistry because they don't want to break the bank. Since dental insurance doesn't typically offer coverage for cosmetic dental treatment, you'll need to find another way to pay for those expenses. Fortunately, as your cosmetic dentist in McKinney, we'll be happy to help you navigate your financial needs. We'll recommend a service that fits your budget perfectly and explain your available payment options. If you'd like to learn more about what to expect, continue reading or give our office a call today!
Which Cosmetic Dental Service Is Right for Me?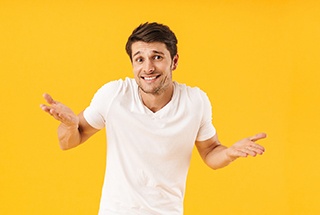 Prospective cosmetic dentistry patients are often trying to either whiten their teeth or correct flaws in them. Once our cosmetic dentist examines your teeth, they can help you explore solutions that make sense for your goals, such as:
Veneers – If you have multiple dental imperfections, you may want to consider veneers. Even though they can be costly, they're the only option capable of correcting several flaws at once. Plus, you can enjoy your new-and-improved smile for over a decade with proper maintenance.
Metal-Free Restorations – When you need restorative care to rebuild a damaged or decayed tooth, our team will help you maintain your naturally confident appearance with materials that are 100 percent biocompatible, highly durable, and an exceptionally close match for tooth enamel. This is a lower-cost option.
Teeth Whitening – Don't like the color of your smile? Professional whitening treatment is a fast, cost-effective way to improve your pearly whites! However, keep in mind that it cannot help with the shape or position of your teeth. In-office whitening and take-home kits are available, as cost and treatment time varies with each one. Expect at-home whitening to take longer and be less expensive between the two.
Direct Bonding – If you have minor imperfections you want to address, direct bonding may be the ideal solution for you. It's a fast, efficient, and cost-effective way to improve tooth shape, size, and color. Although this option is affordable, it will need to be redone every few years.
Why Cosmetic Dentistry Is an Investment Worth Making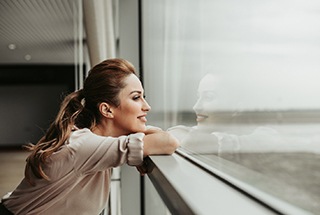 We understand that cosmetic dentistry can feel like a significant financial commitment. However, it's an investment that will pay off for many years to come. Not only can it improve your appearance, but you can expect to enjoy a better overall quality of life due to increased confidence. From bettering your social life and your desire to connect with people on the job, you'll be more likely to have positive interactions with those around you!
How to Make Cosmetic Dentistry Affordable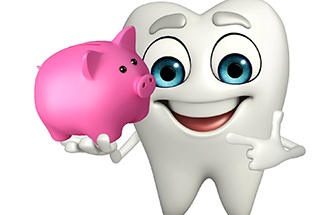 This branch of dentistry is generally not covered by dental insurance, so you'll need to find an alternative method to pay for your treatment. On that note, we offer low-interest financing via CareCredit to patients who want elective cosmetic dentistry procedures.
You might also consider our in-house discount plan, and you are welcome to give us a call for more info about this annual option. Furthermore, we have some special offers you might be interested in, such as whitening for life with every six-month checkup, 30 percent off any one service, or $399 Zoom! teeth whitening!
Are you ready to get the grin you always wanted? Contact us to learn more about these treatments and the cost of cosmetic dentistry in McKinney during a consultation. It's our mission to help you accomplish your smile goals while also considering your financial needs.
Cosmetic Dentistry FAQs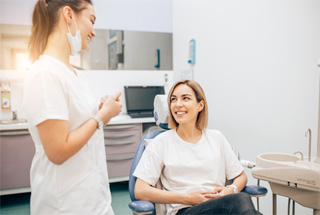 Even if you have positive oral health, it's understandable if you don't enjoy showing your teeth when you smile because of imperfections. At Marble Dental McKinney, we're happy to answer any and all questions you might have about cosmetic dentistry. With so many treatments to choose from, it can be difficult to know where to start. Consider giving our most frequently asked questions a look below as well as the detailed answers from our dentists!
How Do I Know If I Need Cosmetic Dentistry?
If you don't feel comfortable showing your smile when looking in the mirror, you probably feel the same way when it comes to showing it in public. Unfortunately, over-the-counter whitening products can rarely remove stains and discolorations in the same way as professional whitening treatments. Furthermore, chipped and cracked teeth can be cosmetic in nature, but they can easily require more substantial restorations if left untreated. We may recommend a veneer or tooth-colored crown in these instances. Additionally, cosmetic dentistry is ideal for those who want to look younger – people with attractive smiles tend to appear more youthful overall. To better learn which procedures can best suit your needs, you'll want to set up a consultation.
Is Cosmetic Dentistry Safe?
When you're being taken care of by professionals like Dr. Hegazin and Dr. Koro, you can feel confident knowing your cosmetic dental treatment will be safe. For example, they will never perform cosmetic treatment on a person who has existing dental problems that require treatment first (i.e. tooth decay, gum disease, etc.) What they will do is perform a detailed exam of your smile to confirm cosmetic treatment can be safely performed, then give an honest assessment of what needs to happen next. Some cosmetic procedures can put your oral health at risk when underlying issues aren't handled first. Placing a veneer on decayed teeth makes treatment for that decay more difficult later, for example.
Does Cosmetic Dentistry Hurt?
If you are concerned about your treatment potentially hurting, keep in mind that our dentists will work hard to ensure your experience is as comfortable as possible. Thankfully, most cosmetic dental treatments are non-invasive in nature and may not even require local anesthetic to perform, including teeth whitening and bonding. If you need veneers, we'll administer a local anesthetic first so your mouth is numb prior to the preparation phase. After the anesthetic wears off, it's normal to have some minor soreness or sensitivity for the next few days. To help you feel comfortable during your appointment, we offer modern comforts such as warm blankets, soft pillows, and even Netflix to keep you busy during your procedure. We even have multiple sedation options you can utilize if needed.
Is Cosmetic Dentistry Covered by Insurance?
Dental insurance does not typically cover elective procedures. This includes cosmetic dentistry, which are not considered medically necessary by nearly all insurance providers. If treatment can provide oral health benefits (i.e. a tooth-colored dental crown), then an insurance provider may consider that an exception. Crown lengthening (also known as gum recontouring) could get coverage if infection was previously present in the gums. Our team will help you understand your coverage in more detail, file your paperwork, and maximize your benefits to the fullest.
Is Cosmetic Dentistry Expensive?
Cosmetic dentistry is associated with a hefty price tag, but you don't have to be a movie star to revamp your smile. You have more treatment options than ever before to address common aesthetic flaws, like discoloration, chips, or cracks. As a result, there's a solution to fit your budget. Your cosmetic dentist in McKinney will examine your mouth and learn more about your goals and preferences, including your budget, to recommend which procedures are right for you. Our office also offers several financial solutions to keep a picture-perfect smile affordable.
How Long Does Cosmetic Dentistry Last?
Cosmetic dentistry is not a single procedure. Instead, it's a category used for services focusing on aesthetics. Some procedures can last for many months, while others have a life expectancy that can span for years. Your dental team will explain exactly how long you can expect your results to last and what you can do to get the most from your investment, like brushing and flossing. Good oral hygiene will protect your smile from preventable issues, like tooth decay and gum disease. Breaking any bad oral habits will also prevent damage, like chewing on ice or your fingernails. Besides caring for your smile at home, visit your dentist every 6 months for a cleaning and checkup.
Which Procedures Are Right For Me?
Your cosmetic dentist will create a personalized treatment plan after assessing your smile and learning more about the results you'd like to achieve. Every mouth and situation differs, but common treatments include:
Porcelain Veneers: Treat many issues at once by bonding veneers to the teeth visible when smiling.
Lumineers: Enjoy the benefits of veneers without needing to remove any enamel during the application process.
Metal-Free Restorations: All-ceramic materials are used to create durable and natural-looking crowns and restorations.
Direct Bonding: A cosmetic resin is shaded to match the color of your enamel to blend in with your tooth when fixing minor imperfections.
Teeth Whitening: Surface and age-related stains can be improved by up to 8 shades using a professional whitening treatment.
Crown Lengthening: A soft tissue laser sculpts the gum line to reveal more of the teeth' surfaces.
How Long Does Cosmetic Dentistry Take?
Since every treatment plan differs, there's no way to determine how long the process will take until after having a consultation. Your dentist may find certain issues that must be resolved before moving forward with any elective procedures, like cavities or gum disease. Healthy teeth and gums are requirements for any cosmetic service. Some aesthetic procedures can be performed in a single appointment, like teeth whitening or dental bonding. Others can take multiple visits, like porcelain veneers. We know your time is valuable, which is why we use the latest technologies and techniques to streamline the process without compromising your results. We will explain what you can expect on the road ahead and how long your journey will take.