April 23, 2020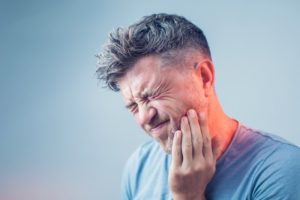 You've been sheltered at home patiently waiting for some sense of normalcy to resume. For the most part, you've been able to catch up on some Netflix shows, spend some extra time with your pet, and definitely indulge in a few extra trips to the fridge along the way. Just when you start to get comfortable, you bite down on your fork the wrong way and immediately feel sharp waves of pain begin.
Your initial surge of panic may lead you to think of heading straight to the ER. However, an emergency dentist in McKinney is sharing why your first call should be to a dentist.
ER Capabilities During a Dental Emergency
Did you know that in one year alone 2.1 million people visited the ER for dental pain? According to the American Dental Association, this number is on the rise too. However, it is important to note that while hospitals are equipped to handle life-threatening emergencies, like choking and head injuries, there is very little they can do in a dental emergency. Since most emergency rooms do not have a dentist on staff, patients are often given antibiotics or pain medication and instructed to contact their dentist for a long-term solution.
3 Reasons to Call a Dentist First
Despite many businesses being temporarily shut down during COVID-19, many dental practices have remained open to treat dental emergencies. This is essential because even the most diligent oral care can require an emergency trip to the dentist without a moment's notice. When you find yourself in the middle of a dental emergency, here are three reasons to call a dentist first.
Reduce your exposure to germs – In unprecedented times like these, we must all do our part in limiting the spread of germs. Unnecessary trips to the ER put you at a higher risk of being exposed and passing those germs along to loved ones.
Hospitals are focused on treating the virus – As cases of COVID-19 rise, hospitals are feeling the pressure of this virus with the increased traffic of patients. With all of their attention focused on the ramifications of the pandemic, you will find quicker and more specialized treatment at your dentist.
Avoid unnecessary medical bills – If you or a loved one has taken a trip to the ER before, then you know that the medical bills that follow can be quite pricey. Skip the unnecessary medical bill by heading straight to your dentist for an emergency visit.
Dental emergencies can mean a world of physical pain for you until properly treated, especially in the middle of COVID-19. Make your dentist your first call before heading to the ER so you can be treated quickly and back to watching Netflix in no time!
About Marble Dental Care
With a focus on providing exceptional care in a comfortable environment, Marble Dental Care is the number one choice when searching for a dentist in McKinney. In addition to actively supporting the community, Dr. Hegazin and his team are dedicated to providing personalized dental care for you and your family. If you find yourself in the middle of a dental emergency, contact their team through their website or by phone at 214-592-0441.
Comments Off

on ER or Not: What To Do in a Dental Emergency
No Comments
No comments yet.
RSS feed for comments on this post.
Sorry, the comment form is closed at this time.