Dental Implant Placement – McKinney, TX
Replace Your Missing Teeth with Dental Implants
Dental implants in McKinney are the most reliable solution to permanently replace missing teeth. With over a 95% success rate, you can rest assured you're making an investment in your smile because they can last for decades. This is largely due to the unique process used to mimic the entire structure of a lost tooth. It involves a multi-stepped treatment process that begins with oral surgery. Although no one looks forward to surgery, there's no need to worry. Here's what you can expect during your placement procedure.
Planning for Implant Placement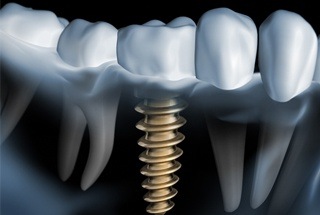 The success of your new smile relies on the right foundation. During your initial consultation for dental implants, a CT scan and X-rays were taken to assess your oral health. Based on the information, your dentist in McKinney may have recommended you undergo additional treatments before your placement procedure, such as periodontal therapy, bone grafting, or a sinus lift.
After you've healed from any previous treatments, you're ready to have your implant posts strategically placed into your jawbone. Dr. Hegazin has undergone advanced training in implant dentistry to perform this step in-office. This saves time and money while you benefit from one trusted dental team from start to finish.
Dental Implant Placement Surgery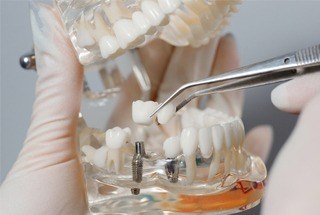 Using your CT scan and computer-guided technology, the precise locations for your implant posts are predetermined before your surgery. You'll require sedation or anesthesia to ensure your comfort during the procedure, so you'll need someone to drive you to or from your appointment.
Your gum tissue is opened to expose your jawbone. Small holes are carefully drilled into it to insert the posts. Your gum tissue is closed to begin a process called osseointegration. The implant posts stimulate your jaw to encourage new bone growth. This allows your jaw to fuse to the posts over the next several months.
After your jawbone is healed, you can undergo the final 2 stages of your treatment to place your abutments and your restorations.
Recovering from Implant Placement Surgery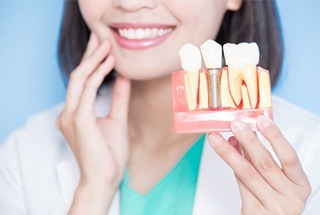 It's normal to be worried about a painful recovery, but most patients report it to be no worse than a tooth extraction. Over-the-counter pain relievers can manage any discomfort while you heal. You can also apply cold compresses to the outside of your face for 10-minute intervals to help manage any bruising or swelling.
While you recover, you need to maintain your oral hygiene to reduce the risk of infection. When brushing and flossing, carefully clean near the surgical sites to prevent causing damage to the healing tissue.
It's best to limit your diet to soft foods for the first few days until your pain subsides, then slowly introduce harder foods. Avoid anything that can injure or irritate the surgical sites, like hard or spicy foods.
Schedule an Appointment Today!
If you're ready to invest in a complete smile, dental implants may be the answer for you. Dr. Hegazin takes the time to carefully explain your placement surgery and answers any questions you have to feel confident as you head into your procedure. Contact our office today to schedule your consultation.