How to Prevent Dental Emergencies – McKinney, TX
Keep Your Teeth Happy, Healthy, and Intact
Try as we might, not every painful, broken, and knocked-out tooth can be avoided. However, there are plenty of ways you can reduce your risk of encountering a dental emergency! At Marble Dental Care, we aim to help keep your teeth happy, healthy, and intact for a lifetime. That's why we encourage everyone to keep the following tips in mind to prevent dental emergencies in McKinney. Of course, if you do find yourself in need of urgent dental care, don't hesitate to give us a call right away and our talented dental team will help you as soon as possible.
Practice Great Dental Hygiene Habits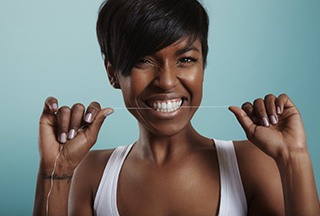 When it comes to protecting your smile and preventing dental emergencies, one of the easiest things you can do is practice great dental hygiene habits at home. Cleaning away bacteria in your mouth with fluoridated dental products frequently is essential for preventing dental emergencies. Simply brushing your teeth for two minutes every day, flossing between all your teeth daily, and rinsing with mouthwash regularly can go a long way in keeping your smile sparkling and strong!
Maintain a Nutritious Diet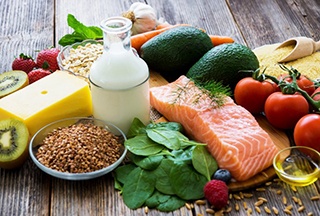 You probably already know that consuming too much sugar can lead to a mouth full of cavities. However, that's not the only way your teeth are influenced by what you eat! Hard, sticky, and acidic foods and drinks are notorious for weakening enamel and causing chipped, sensitive, and decayed teeth. Instead, eat plenty of low-fat dairy products, lean proteins, and fruits and vegetables with vitamin C for a natural and delicious way to keep your smile healthy.
Wear A Mouthguard
Do you play sports? Do you grind your teeth at night? If so, it's time to talk to your dentist about getting a mouthguard or nightguard. These high-quality, custom-made dental appliances will protect your teeth from impact, pressure, and force. Mouthguards and nightguards can dramatically lower your risk of sensitive, weakened, and knocked-out teeth.
Use Tools to Open Packages, Not Your Teeth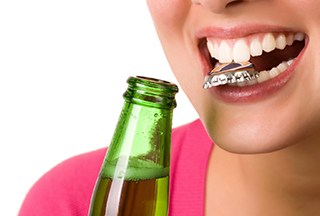 If you're in a hurry, very excited, or feeling a little lazy, it may seem very convenient to use your teeth as a tool. While opening bottles, packages, and containers with your pearly whites may seem convenient at the time, it could cost you a sudden trip to our McKinney emergency dental office. Your teeth are very strong, but using them on non-food items can wear away their enamel and seriously damage them.
As we mentioned before, not every dental emergency is preventable. If you or a loved one needs urgent dental care, give us a call right away and we'll see you as soon as possible!