April 5, 2019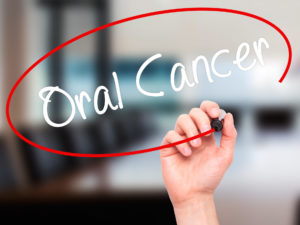 According to the Oral Cancer Foundation, over 50,000 men and women in the U.S. will be newly diagnosed with oral cancer in 2019. It is well known that smoking or chewing tobacco can often lead to various types of cancers, including oral cancer. However, you can still develop this deadly disease even if you have never puffed on a cigarette. Want to know more? April is Oral Cancer Awareness Month, so there is no better time than now to learn about the risk factors of oral cancer and why visiting a dentist for an oral cancer screening in McKinney is so important.
What is Oral Cancer?
Cancers that occur in the mouth and parts of the throat – including the gums, lips, tongue, inside of the mouth, tonsils, esophagus and middle region of the throat – are all considered oral cancer. Combined, these types of cancer represent the sixth most common cancers in the world, according to the National Institutes of Health.
Warning signs of oral cancer include:
Red or white lesions in the mouth or lips
Lumps, bumps or thickened areas of skin inside the mouth or throat
Ear pain without any loss of hearing
The sensation of something caught in the throat
Loose teeth
Difficulty swallowing or sore throat
How a Dentist Can Help Fight Cancer
Along with avoiding tobacco products and heavy alcohol consumption, regularly visiting the dentist can reduce your risk for oral cancer. Indeed, a dental checkup is about more than just checking for cavities – it is also an opportunity for your dentist to examine your mouth, face and neck for signs of this deadly disease.
During an oral cancer screening, your dentist will:
Visually examine inside your mouth for signs of oral cancer using special tools
Use his or her hands to check for unusual bumps and masses
Ask questions about your exposure to oral cancer risk factors like smoking
Ask questions to help identify nonvisible symptoms of oral cancer, such as a hoarse voice
How Often Should I See a Dentist?
Detecting oral cancer early is critical to overcoming it. According to the National Institute of Dental and Craniofacial Research, the five-year survival rate for those diagnosed with oral cancer early is 75% — however, the five-year survival rate drops to 20% for those diagnosed later, after cancer has spread.
This is one of the reasons that the American Dental Association recommends seeing a dentist every six months for a regular dental checkup.
In addition to checking your mouth for signs of oral cancer, a dentist or dental hygienist will also expertly clean your teeth and take dental X-rays in order to spot oral health problems invisible to the naked eye.
Now that you are more aware of oral cancer and the importance of regular dental checkups, you can take action. Do not hesitate to call a dentist in McKinney this April if you experience any of the symptoms described above.
About the Author
A proud graduate of Loma Linda University in California, Dr. Zack Hegazin has been helping patients in McKinney achieve healthy, strong smiles for over 10 years. He provides an in-depth diagnostic check as part of every routine dental checkup at Marble Dental Care. To learn more about the importance of preventive dentistry, visit the Marble Dental Care website or call Dr. Hegazin at 214-592-0441.
Comments Off

on Why an Oral Cancer Screening in McKinney is So Important
No Comments
No comments yet.
RSS feed for comments on this post.
Sorry, the comment form is closed at this time.