May 30, 2019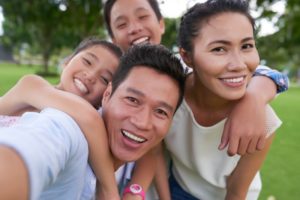 As a parent, it's difficult to coordinate everybody's schedules and make sure they get where they need to be. If you have children, you may have noticed that some practices don't accept younger patients. Instead of making a drive to multiple different offices across town so everybody gets the services they need, you can schedule your entire family's appointments with your children's dentist in McKinney! Not only do they offer comprehensive care for everybody under one roof, but they can simplify your schedule! Read on for 5 reasons to make the switch to a family dentist.
Create A Long-Lasting Relationship For Generations To Come
Because your family dentist in McKinney sees patients of all ages, they'll be able to take care of all of your loved ones for generations to come! If your child suffers from dental fear or anxiety, this can also be a great way to tackle that. Establishing a great connection with your dentist can help ease these anxieties and give them a better relationship with their oral health. When your child trusts their dentist, it creates a more comfortable and relaxing environment to address concerns or problems.
Keep Better Track of Your Dental History
Instead of having to have your child's dental charts transferred from practice to practice throughout their life, it'll all remain in the same place. This allows fewer problems to slip through the cracks and gives your family the care they deserve. If you have a history of gum disease or cavities, it's important that they know so they can identify and treat these symptoms before they progress into something serious.
Comprehensive Care For The Entire Family
Your family dentist is equipped with the knowledge and tools to treat patients of all ages. Scheduling appointments and driving to different dental practices across town to get the services you need is a hassle. Getting comprehensive care from dentures to a child's filling all under one roof can clear your schedule and take a bit off your plate!
Consolidate Everybody's Schedules
Between soccer games and several other obligations, squeezing in routine dental visits seems almost impossible. When you consider your own oral health needs as well, it's likely that someone's visit gets put on the backburner because of everyone's busy schedule. When all of your loved ones go to the same practice, scheduling visits becomes significantly easier. You could plan everyone's 6-month visit for the same day!
Lead By Example For Your Children
It's no surprise that your children look up to you, so when they watch you enjoying your dental cleaning and checkup, they're more likely to do the same! If you constantly reschedule your regular visits, or aren't good about keeping up with your daily oral hygiene, you're showing your loved ones it's okay to do the same. By getting your mouths cared for at the same place, not only can you be confident in the quality of care they're receiving, but it shows your child that there's nothing to be afraid of.
Keeping up with everyone's schedules and trying to work dental appointments around them is stressful. The good news is, you don't have to because your family dentist is equipped to care for all of your loved ones in the same place! Make the switch to a family dentist so everyone can get the care they deserve.
About the Author
Dr. Zack Hegazin knows the importance of having a healthy and bright smile from a young age. He enjoys helping his patients, no matter their age, achieve a grin they're proud to show off. With over a decade of experience under his belt, he provides all the families that visit his office with excellent care and results. For questions or to schedule an appointment for your family, visit Marble Dental Care's website or contact 214-592-0441.
Comments Off

on 5 Reasons Visiting Your Children's Dentist in McKinney Is Great For Your Entire Family!
No Comments
No comments yet.
RSS feed for comments on this post.
Sorry, the comment form is closed at this time.