August 21, 2019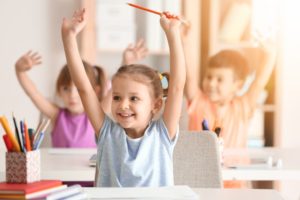 The start of a new school year means a stressful trip to the store for school supplies, clothes, and all the essentials necessary for your little one to be successful and get the most out of their education. Even though your back-to-school to-do list seems miles long, there's one thing that's probably missing from it, a visit to the children's dentist in McKinney! To improve your child's focus during the year and make sure they have perfect picture-day pearly whites, follow these three dental health tips!
Schedule a Dental Checkup and Cleaning
As a parent, your top priority is keeping your child healthy and safe. That's why it's important to start your their school year off right with a routine checkup and cleaning. Even if you make sure that they brush and floss every day, plaque and tartar can still build up in the nooks and crannies of their mouth and cause oral health problems like cavities.
During their appointment, your children's dentist in McKinney can make sure that their small smiles are developing correctly, inspect for any complications, and spot issues that could impact their ability to focus in class. When problems like teeth grinding, airway disorders, tongue ties, teeth grinding, and bite problems go left untreated, it can impact their ability to do basic functions and distract them from learning.
Packing the Best Lunches for Their Oral Health
Every morning you pack their lunch for school and try to include healthier alternatives than the school's cafeteria meals. During your child's checkup and cleaning, be sure to ask your dentist about foods and snacks you could pack to keep their pearly whites healthy and beautiful. Be sure to follow some of these tips:
Avoid applesauce, because although it seems healthy, the snack is loaded with cavity-causing sugars.
Pack slices of banana, apples, and strawberries instead of fruit snacks. Sticky foods can cling to their teeth and cause plaque buildup.
Include a small portable bottle of plain milk and an ice pack in their lunchbox instead of juice because it can help fortify their tooth enamel and isn't sugary.
Choose colorful vegetables that look fun and appealing to your little one. Red and orange-colored vegetables are high in vitamin C which is great for their gums.
Make Routine Oral Hygiene Fun and Easy
Sometimes, it can be difficult to encourage your child to brush and floss, especially after a long, tiring day in class. That's why it's important to make what seems like a chore, fun. To keep their teeth and gums healthy and happy, it's important that they brush twice each day for at least two minutes and floss daily. Here are some tips to spice up their oral hygiene routine:
Use special stickers and a calendar to mark each consecutive day they've brushed and floss, giving a special reward (that doesn't involve a sugary snack) after a week.
Play their favorite two-minute song when they brush their teeth to pass the time.
Let your child pick exciting themed oral hygiene products.
If you have any questions or would like recommendations, don't hesitate to ask their dentist during their checkup and cleaning. Establishing healthy habits during the school year can give you the peace-of-mind that your little one can focus their attention on learning instead of uncomfortable oral health problems.
About the Author
Dr. Zack Hegazin is passionate about working on small smiles and helping children achieve optimal oral health by giving them the knowledge and care they need. He understands how difficult it is to raise a child, work, and try to fit in dental visits, which is why he's open late and on Saturdays. He has over a decade of experience and looks forward to helping families optimize their oral health. For questions or to schedule a routine checkup and cleaning, visit Marble Dental Care's website or call 214-592-0441.
Comments Off

on 3 Back-to-School Dental Tips to Set Your Little One Up For Success
No Comments
No comments yet.
RSS feed for comments on this post.
Sorry, the comment form is closed at this time.