December 7, 2019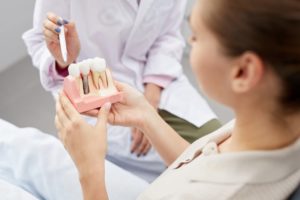 According to the Centers for Disease Control and Prevention, Americans have lost an average of 12 permanent teeth by the time they're 50 years old, and 26% of adults between the ages 65 and 74 have lost all their teeth. The most popular, lifelike, and effective way to replace these missing teeth are with dental implants. These prosthetic teeth improve everything from chewing and speaking, to tooth spacing and oral health, and even bone structure! On top of all those benefits, one of the biggest reasons dental implants are so widespread is how likely they are to succeed: it's estimated that they have a 98% success rate! However, they're not perfect. Although unlikely, some dental implants do fail. You can avoid a failed dental implant in McKinney by learning what could cause one and how to prevent it!
Why do Dental Implants Fail?
An implant is considered a "failure" when it becomes loose, which can impede function, cause damage to your mouth and jaw, and even fall out completely. Implant failure within the first few months of the procedure is called a short-term failure. It's often caused by a problem with the osseointegration, or the process where the implant merges with the bone. Without proper integration, the implant won't be anchored into the jawbone and may fall out.
Long-term failure may occur several years after the implant has successfully healed. The most likely cause of long-term implant failure is peri-implantitis, a chronic infection in the gums that attacks the implant. Like how periodontitis, the advanced stage of gum disease, causes tooth loss, peri-implantitis attacks the bone structure that holds the implant in place. It can damage it enough to destabilize the implant and cause it to fall out.
What Factors Influence the Failure Rate of Dental Implants?
The success of your implant almost entirely depends on how healthy you keep your teeth, gums, and bones. Your implant is less likely to succeed if you have factors that keep you from healing quickly or promote infection, like:
Gum disease
Smoking
Autoimmune diseases
Bad oral hygiene
Your Dentist Can Help Dental Implants Last a Lifetime
With the proper care, your dental implant won't just succeed – it can last you an entire lifetime! Your dentist in McKinney can help you prevent failure and preserve new teeth for years by:
Identifying and treating gum disease, which can cause major dental implant complications.
Providing a bone graft if necessary to maximize chance of success during the initial placement.
Keeping the dental implant clean, fixing damage, and catching signs of failure as early as possible at regular checkups.
Thankfully, replacing missing teeth with dental implants in McKinney is an extremely successful procedure. With great dental habits and help from your dentist, your dental implant can last you a lifetime!
About the Author
Dr. Zach Hegazin is a general, cosmetic, and implant dentist based in McKinney, TX. He is a graduate of Loma Linda University in California and is a proud member of organizations like the American Dental Association, the American Academy of General Dentistry, and more. He has completed hundreds of hours of advanced training in order to personally provide functional, confident smiles with dental implants instead of referring you to a specialist. If you'd like to know more, he can be reached via his website or at (214) 592-0441.
Comments Off

on Why Dental Implants Fail Sometimes and How to Prevent it
No Comments
No comments yet.
RSS feed for comments on this post.
Sorry, the comment form is closed at this time.