March 28, 2020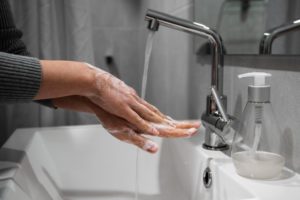 The COVID-19 crisis has caused countless people to closely analyze their hygiene habits in an effort to reduce their risk of transferring germs or viruses and becoming ill. If you're wondering whether you're doing everything possible to stay healthy, it's a good idea to start by considering your daily habits: Do you wash your hands before brushing your teeth? When was the last time you switched out your toothbrush? Read on to learn four oral hygiene health practices that will help you stay healthy during the pandemic.
Sanitary Denture Handling
If you have removable dentures, you're likely taking them in and out of your mouth to clean them and give your gums a break. Because your hands will be in your mouth, it's important to wash them before each time you do this. You can also sterilize your dentures by placing them in a mixture of eight ounces of water and one teaspoon of bleach for no longer than a minute. Be sure to rinse them off after removing them from the solution and gently dry them before placing them back in your mouth.
Don't Share Dental Hygiene Products
Even though you may be self-isolating with your family, it's a good idea to avoid sharing dental hygiene products that go in your mouth, such as water flossers and toothbrushes. This will just increase your risk of spreading a virus or bacteria to your mucous membrane in your mouth. If you only have one water flosser and multiple people need to use it, be sure to disinfect the handle and head before every use.
Wash Your Hands Before Brushing and Flossing
Similar to when you handle dentures, it's important to wash your hands for at least 20 seconds before you brush and floss your teeth every day. This will prevent any bacteria or viruses transferring from your hands to your mouth.
Sanitize Your Toothbrush
Although it may not seem like it, your toothbrush can easily trap germs, viruses, and bacteria that can migrate up the handle and be transferred to your mouth. That's why it's important to regularly change it out and sanitize it. You can place it in a pot of boiling water for five minutes or wipe the handle with a disinfectant regularly to limit bacteria buildup. Your toothbrush holder can also become a bacterial breeding ground, so be sure to clean it by running it through a dishwashing cycle or soaking it in some disinfectant and scrubbing the bottom.
The COVID-19 crisis may seem scary and uncertain, but the best you can do to protect yourself is be mindful of your everyday habits that could put you at risk. With these four oral hygiene practices in your back pocket, you'll be able to reduce your chances of illness and stay healthy while self-isolating.
About the Author
Dr. Zack Hegazin has been practicing dentistry for over a decade. He graduated with honors from Loma Linda University in California, and is an active member of several professional organizations, including the American Dental Association. During the COVID-19 crisis, he is only on accepting dental emergency patients and will be postponing all elective procedures until it's safe to resume them. For questions or to schedule an appointment, visit Marble Dental Care's website or call 214-592-0441.
Comments Off

on 4 Oral Hygiene Habits to Keep You Healthy During The COVID-19 Crisis
No Comments
No comments yet.
RSS feed for comments on this post.
Sorry, the comment form is closed at this time.